Vietnam shipbuilding industry short of skilled workers

Among the sounds of hammers and steel-cutting machines, 50-year-old Nguyen Ngoc Hong, a worker of Pha Rung Shipyard Company in Hai Phong City, puts a vessel through final tests after construction has been completed.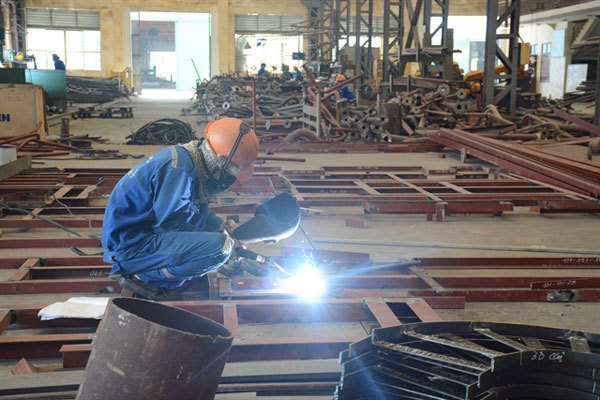 Workers at a company belonging to Shipbuilding Industry Corporation (SBIC). Due to heavy workload, many SBIC shipbuilders shifted to other companies offering higher wages. — VNA/VNS Photo Viet Hung
"Shipbuilders and repairmen, working indoors or outdoors, all have to suffer dust, noise and heat," he told vietnamplus.vn.
"My job is less intense than many others. Some workers have to climb high scaffolding to weld ship hulls and complete details. The welders have to work in narrow spaces of closed, small, hot and dark cabins engulfed in smoke and the smell of oil."
Having worked for the company, which belongs to State-owned Shipbuilding Industry Corporation (SBIC), for 27 years, Hong is among 730 workers still there after a large number left due to the heavy workload and low wages.
He said the monthly income of a worker is about VND10 million (US$435), not high compared to the workload, but means he can cover daily expenses.
"Shipbuilding requires workers to be more highly-skilled than other sectors. Other mechanical businesses attract workers with higher wages and better working conditions. Without relevant preferential policies, the Pha Rung Company risks losing workers," Hong said.
To Thanh Ha, deputy director of Pha Rung Shipyard Company, said the company now has 730 workers compared to 830 last year and equivalent to nearly one fifth of the labour force in 2007, which was the heyday of the shipbuilding industry.
Although workers are ensured a stable job until 2020 thanks to existing orders, recruitment for the industry faces competition from new companies in neighbouring industrial zones which offer higher wages.
Facing a shortage of full-time staff, the company has to recruit part-time workers at peak times. It takes time to train those new workers, affecting production and business, he said.
Another SBIC unit in Hai Phong, Song Cam Shipyard Joint Stock Company, is also short of skilled labourers as many have left to work elsewhere.
It currently has 930 workers and needs 100 more to meet its production capacity.
According to Phan Dinh Luong, deputy director of Song Cam Company, the workload has increased since the company worked with Damen Shipyard Group of the Netherlands to make more types of ships. While the orders are available, there are not enough labourers to do the work.
Leaders of shipyard companies agreed that they must ensure stable work and wages in order to keep the builders with them for a long time.
"Workers might leave the job if their wages are paid two to three months behind schedule," Luong said.
He said that companies must not owe social, health or unemployment insurance premiums and wage payments, and also offer preferential mechanisms such as meal breaks and bonuses for high productivity.
The shipyard industry depends on shipbuilding and repair orders so recruitment also depends on business and production profits. The company has worked with technical schools to seek more shipbuilders. However, the supply remains limited and faces competition from the mechanical sector, Ha, Pha Rung Company's deputy director, said.
He said shipyards must step up training for workers, reorganise labour structure among departments to increase productivity, and increase wages and offer allowances for those holding important positions or skilled workers.
VNS