Vietnam takes action to reduce plastic waste
HCM City to reduce plastic waste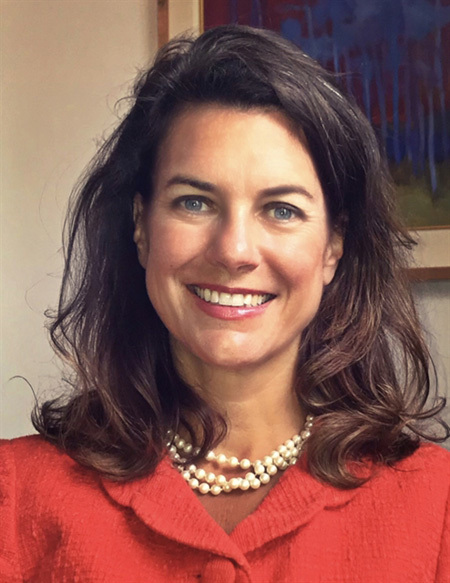 Kristin Hughes, director of the Global Plastic Action Partnership
What is the impact of plastic waste globally?
Plastic materials are remarkably lightweight, resilient, waterproof and cheap with countless applications in industries like packaging, construction, textiles, consumer products, transportation and electronics. There is no doubt plastics have transformed the way we live, our culture and economy.
Annual global production of plastics has increased more than 200-fold since 1950 and is estimated to hit a staggering 1.2 billion tonnes by 2050, three times the levels of 2015.
Despite its great features, plastic comes with two major drawbacks. First, 90 per cent of the raw materials for plastic are chemicals produced from oil and gas. Second, they are not biodegradable.
Plastic waste generation is strongly influenced by primary plastic use and the product's lifetime. Packaging has a very short in-use lifetime, typically around six months or less.
In 2015, primary plastics production was 407 million tonnes. Around 75 per cent of it (302 million tonnes) ended up as waste.
Today, 95 per cent of the plastic packaging material value, which is up to US$120 billion globally, is lost after the first use and 32 per cent of plastic packaging does not enter into the formal waste collection system.
The largest part of plastics on the market, accounting for more than 90 per cent, are produced from fossil feedstock, causing approximately 400 million tonnes of greenhouse gas emissions in 2012.
If this trend continues, production of plastics could account for 20 per cent of global oil consumption and 15 per cent of global carbon emissions by 2050.
How is the Global Plastic Action Partnership (GPAP) addressing this issue?
The World Economic Forum is the world's foremost platform to shape global, regional and industry agendas through stakeholder engagement.
We are a global organisation for multi-stakeholder platforms and serve as an "operating system" to enable stronger international collaboration.
As part of the forum's work on the Paris Agreement and the United Nation's Sustainable Development Goals, GPAP was launched in September in 2018 at the Sustainable Development Investment Summit as a project within the Platform for Advancing the Circular Economy.
GPAP is one of the forum's initiatives whose aim is to demonstrate system leadership to create positive impact on the state of the environment.
GPAP seeks to facilitate strategic dialogue and curate the global community engaged in the plastic pollution conversation.
The objective of GPAP is to reduce plastic pollution in the ocean and in the environment.
GPAP is a public-private collaboration platform that helps public, private and civil society leaders collaborate to tackle plastic pollution.
What kind of solutions are needed in Vietnam?
Generally, systemic change is necessary in order to move the country towards better value capture by extending the recyclability and life of certain plastics, reducing the use of plastic where feasible, and moving away from single-use plastic.
The country must ensure that more plastic waste is captured through existing waste management system in the short term, and ultimately prevent plastic from becoming waste through a circular economy approach.
This year GPAP is launching national action partnerships to accelerate the transition towards a circular plastic economy on the ground.
Learnings from these pilots and local leaders' actions will be replicated and scaled in other regions that are committed to tackle the plastic challenge.
GPAP plans to build a model in three countries: Vietnam, Indonesia and Ghana, from which best practices and learnings can be gleaned and built upon.
We are very excited to launch our national partnership in Vietnam later this year.
We know the country could benefit from system change because it is currently a disproportionately high contributor of plastic pollution into the ocean.
GPAP will work with the government to generate deep insights into the systemic challenges relating to plastics production, consumption and disposal in the market, and will help the country to identify and collaborate with experts across the plastics economy.
To maximise impact, we have been working hard with the Vietnamese Ministry of Natural Resources and Environment and other important stakeholders to develop this partnership.
At this point, we, however, have not yet conducted a detailed modelling analysis of the Vietnam landscape. Therefore, we cannot point to specific recommendations for action that are needed at this time.
However, given the high levels of leakage into the oceans in the country, it is likely that a considerable focus would be on the creation of better waste management systems as an urgent priority.
What is Vietnam's role in raising public awareness about this issue?
There is a very strong geographical clustering of mismanaged plastic waste, a high share of which is in Asia. China contributes the highest share of mismanaged plastic waste, with around 28 per cent of the global total, followed by Indonesia, Philippines and Vietnam.
Other leading countries include Thailand, Egypt, Nigeria and South Africa.
Countries around the middle of the global income spectrum tend to have the highest per capita mismanaged plastic rates.
It is also the case that countries with high levels of mismanaged waste also have large coastal populations.
Each year, at least 8 million tonnes of plastics leak into the ocean, or one large garbage truck into the ocean every minute.
Research suggests a range of plastic waste in the ocean, between 150 and 268 million tonnes of plastics in the ocean today.
At the global level, best estimates suggest that approximately 80 per cent of ocean plastics come from land-based sources, and the remaining 20 per cent from marine sources.
Plastic waste that is most at risk of entering the oceans is generated in coastal populations within 50 kilometres of the coastline, at a volume of just under 100 million tonnes.
Given Vietnam's important upcoming role as the chair of ASEAN, we do hope that this will be a great opportunity for the country to show regional leadership in profiling the plastics agenda in this critical region.
It is well known that the ASEAN region poses some of the greatest challenges in terms of managing marine plastic pollution – as ASEAN member states have some of the highest leakage rates in the world.
GPAP has already formed a national partnership with Indonesia, which we hope will also contribute towards a better understanding and course for action in the ASEAN region.
We believe there is a tremendous leadership opportunity for Vietnam. VNS
Bo Xuan Hiep