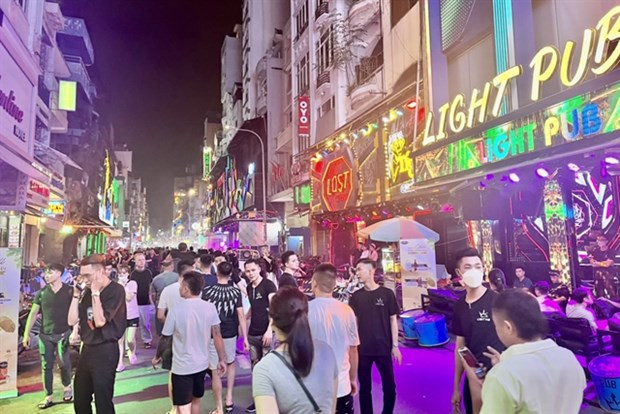 Bui Vien street in Ho Chi Minh City (Photo: VNA)
With its proximity, Cambodia has become a significant market for Vietnam, travel industry insiders said. It was among the top 10 markets in the first half of this year, with arrivals surging by 338% from the same period in 2019 before the COVID-19 pandemic hit.
In the past a majority of Cambodian tourists visited Vietnam for medical treatment, but the pandemic has upended travel trends. But now there is an increase in weekend tourists visiting border areas, leisure travelers and those seeking longer experiences.
Their significant purchasing power is one of the key factors contributing to their interest in Vietnam.
Vietnam's convenient geographical location, beautiful coastlines and attractive cuisine are among the factors that make the country appealing to Cambodian tourists.
Improved transportation networks, including direct flights and well-connected roads, have made travelling from Cambodia to Vietnam easier than ever before.
Vietravel, a tourism company, has witnessed a 10% growth in the number of package tourists from Cambodia in the first five months compared to the same period in 2019.
To capitalise on the potential of Cambodian tourists, the company plans to develop combined tours in Tay Ninh, a province located near the border. These tours will include resort tourism, medical tourism and religious tourism.
It is also exploring the possibility of starting flights between major Cambodian cities and key tourism destinations in Vietnam.
Tran Quoc Thinh, director of Tay Ninh province's Tourism Promotion Centre, said Cambodian tourists primarily arrive through border gates due to the low travel costs and convenient bus services.
While there are opportunities to attract more Cambodian tourists, there are some challenges that need to be addressed, according to experts.
The frequency of flights between Cambodia and Vietnamese tourism destinations is currently limited and not fully utilised by many airlines. Tourism products for Cambodian visitors need to be diversified further. Furthermore, promotion and marketing efforts targeted at the Cambodian market remain limited.
To address these challenges and attract more Cambodian tourists, Thinh said promotion programmes had been organised in Tay Ninh province./. VNS