VietNamNet Bridge - The number of Chinese travelers to Vietnam in 2016 accounted for one-third of all foreign travelers.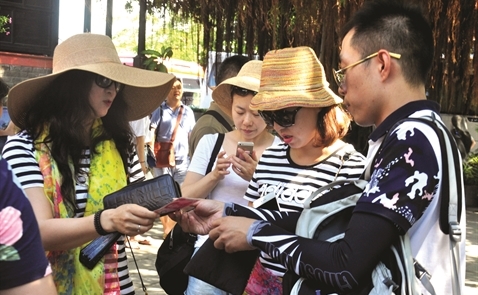 According to the Chinese tourism administration agency, in the last five years, the number of Chinese travelers has increased by twofold to 120 million. One out of every foreign travelers is from China. Regarding spending, the World Travel & Tourism Council reported that in 2015, Chinese spent $215 billion on travel, increasing by 50 percent compared to 2014.
According to the General Statistics Office (GSO), 2.7 million Chinese travelers came to Vietnam in 2016, twice as many as 2012 and 50 percent higher than 2015.
Airlines have recently opened a series of direct air routes linking Chinese localities and Vietnamese tourist cities such as Nha Trang, HCMC and Phu Quoc.
The number of Chinese travelers to Vietnam in 2016 accounted for one-third of all foreign travelers.
All countries want to get benefits from the Chinese tourism wave. And so does Vietnam. Nha Trang and Da Nang, cities with beautiful beaches, are favorite destinations for Chinese tourists.
The local authorities have been taking action to better satisfy the demands from Chinese travelers. Da Nang, for example, is training more tour guides who can speak Chinese to attract more travelers from the vast market.
According to Alternaty, a consultancy firm, this will help stimulate demand in the resort real estate market in the time to come. Vietnam has become a favorite destination point, while Nha Trang, Cam Ranh and Phu Quoc will see new supply sources in two to three years.
In fact, some travel firms and Vietnamese people have little sympathy for Chinese travelers because of the troubles some of them make.
Not only Vietnam, other countries such as Thailand, South Korea and Japan also have worries about the bad behavior conducted by some Chinese travelers, including public disorder, theft and drinking.
However, the director of a travel firm specializing in providing inbound tours said that no one would refuse Chinese travelers because they want profits.
He said that Chinese travelers are willing to spend money and will obey rules if they are informed in advance.
Ly Truong Chien, president of Tri Tri Group, commented that Vietnam is 'not skillful' in persuading travelers, including Chinese, to spend money.
Nguyen Tri Hieu, an economist, said Vietnam should not miss the opportunities to earn money from Chinese travelers.
RELATED NEWS
Vietnam investigates Chinese travelers' complaints about airport staff
Travel firms see negative signs from Chinese market
Le Ha