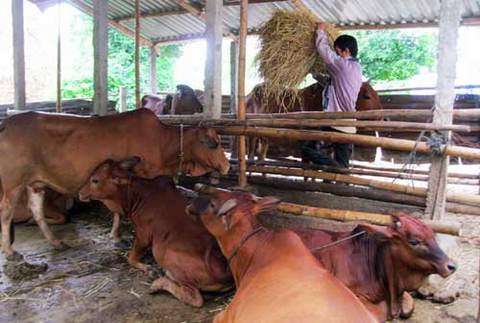 Viet Nam's agricultural sector will focus on developing cattle, poultry and aquatic breeding to compensate for a shortage of pork which is expected to hit this year due to African swine fever.
Deputy Minister of Agriculture and Rural Development Phung Duc Tien said in the first half of this year, despite many difficulties, especially the outbreak of African swine fever which has caused heavy losses in the livestock sector, the sector still maintained a good growth momentum.
However, cattle breeding would be pushed to ensure meat supplies for the market, he said at a press conference held in Ha Noi this week.
According to Tong Xuan Chinh, deputy head of MARD's Department of Livestock Production, Viet Nam's beef consumption was lower than the global average.
Domestic demand for beef was about three kilos per head per year, while in Asia it was more than five kilos, and in some developed countries it was more than nine kilos, he said.
He said the country's milk consumption was higher than some regional countries such as Indonesia and the Philippines, but much lower than the global average.
The average demand for milk in Asia was 81 kilos per head per year compared to the world figure of 120 kilos. In Viet Nam, it is just 20 kilos, providing an advantage for the grass-fed livestock industry to re-organise production, especially when Viet Nam is trying to integrate into the global agricultural value chain.
"This shows that Viet Nam's beef industry and dairy industry still have a lot of potential for development," Chinh told thoibaokinhdoanh.vn.
However, Chinh said it was not easy for domestic beef to compete with imported beef which was favoured by many Vietnamese customers.
"Beef imported from Australia and the US is available in most supermarkets, retail stores, traditional markets, industrial kitchens and restaurants," he added.
Chinh said a survey showed that imported beef was dominant in the Vietnamese market. For premium beef for luxury restaurants and hotels, it is Japanese Kobe beef and frozen American beef.
For the fresh beef segment, cows are imported from Australia and then slaughtered before shipping to retail stores. For lower segments, frozen beef is an option for many industrial kitchens and restaurants in Viet Nam.
Change to compete
According to Nguyen Quoc Toan, head of the Ministry of Agriculture and Rural Development's agricultural product processing and market development department, businesses producing and trading meat and milk needed to identify target markets to boost consumption.
"To compete with imported beef products, the cattle industry needs to build more concentrated slaughter and processing houses, thereby helping to lower production costs," Toan said.
Nguyen Van Bac, deputy head of the National Centre for Agriculture Extension's branch in the southern region, told thoibaokinhdoanh.vn that a solution to help farmers develop cattle herds was to form agencies which specialised in producing and supplying feed made of agricultural byproducts [such as straw].
"Agricultural byproducts are everywhere but very few agencies collect them to process into cattle feed. "If each farmer has to do that themselves, livestock operations will always be small-scale and will not develop," Bac said.
Only when there are professional feed suppliers would the beef industry be specialised, increasing the number of cows at each household, lowering production costs and raising competitiveness," he added. — VNS