VietNamNet Bridge – The leaders of the National Assembly's Committee for Defense and Security said that if China does not pull its drilling rig out of Vietnam's waters, Vietnam must bring it to the international court.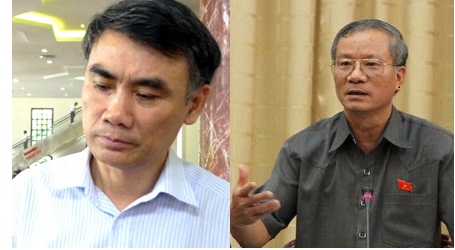 Mr. Tran Dinh Nha (left) and Mr. Nguyen Kim Khoa, Vice Chair and Chair of the NA's Committee for Defense and Security.
On the sideline of the National Assembly on Thursday, Chair of the NA's Committee for Defense and Security Nguyen Kim Khoa and Vice Chair Tran Dinh Nha talked with correspondents about China's recent incursion into Vietnam's exclusive economic zone and continental shelf.
Khoa said China's move of the HD-981 rig into Vietnamese waters is an escalation in the serious string of infringements into Vietnam's sovereignty as well as a violation of international law. "However, this is an action that we have anticipated," he stressed.
Khoa asserted that Vietnam will persist in peaceful solutions, particularly by informing the international community of China's acts so as to win the world's support in Vietnam's pursuit of justice. "In particular, we will consider legal measures, which Vietnam has prepared," he added.
Deputy Chair Tran Dinh Nha said that many situations have been anticipated and the response measures will be decided depending on China's attitude and actions. If Beijing does not change its attitude, Vietnam must file a lawsuit against China in international court, said Nha.
Commenting on China's deployment of warships and mine clearance vessels in the waters of Vietnam, Nha acknowledged that the blatant display of military power is intended to bully Vietnamese law enforcement forces.
"Under international law, military vessels may pass through the waters of other countries but the weapons on board must be sheathed. China did not cover its weapons, but instead pointed them at Vietnamese fishermen. This is a flagrant violation of the UN Convention on the Law of the Sea and a threat to the security of our boats," Nha stressed.
Tran Cham