VietNamNet Bridge – Though a simulated flight showed somewhat unsatisfactory results, the Civil Aviation Authority of Vietnam (CAAV) has stated it still believes in the feasibility of the route between Hanoi and HCM City over Laos and Cambodia airspace.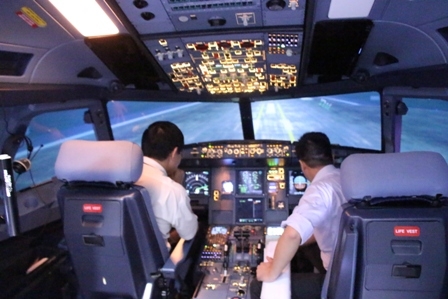 The simulator flight test on September 4 showed that the route would shorten the distance by 85 kilometers instead of 142 kilometers as expected, reduce the time needed to fly between Hanoi and HCM City by five minutes, and save 190 kilos of fuel.
The results showed that, with current service fees and fuel prices, Vietnamese air carriers would incur losses on the new air route.
However, CAAV's Head Lai Xuan Thanh said that CAAV was still trying to make the air route a reality by reducing expenses and settling existing problems.
In a report to the Minister of Transport Dinh La Thang, CAAV proposed to deal with two problems as soon as possible. First, the Ministry of Transport would work with the Ministry of National Defence on airspace re-organization. Second, Vietnam would negotiate with Lao and Cambodian governments on reducing transit fees.
At present, Vietnamese air carriers flying in Laos airspace have to pay $225 for every flight with an A321. The transit fee is $412 if flying in Cambodia airspace. As such, the total transit fee would be $1,274, which would create losses for these flights.
Regarding the flight control fee, CAAV plans to ask the transport ministry to discuss this with the Ministry of Finance. Airlines now have to pay a $150 fee for every flight.
As for the sky re-organization, the Ministry of Transport and Ministry of National Defence have agreed that in peacetime, using the sky for civil aviation would be a priority.
Thanh of CAAV said CAAV has asked the Japan International Cooperation Agency (JICA) to examine the simulation flight test. CAAV wants to know if the air route and flight mode designed by CAAV is an optimal one.
Thanh said in Nguoi Lao Dong that, if the Lao and Cambodian governments agree to reduce the transit fees which would help airlines break even with the direct air route, CAAV would propose using the new air route instead of the current one.
Dr. Tran Dinh Ba, one of the two main authors of the golden air route, said in Doi Song & Phap Luat newspaper that he doubts the results of the simulator tests.
Ba said he can see something "fishy" in the testing. He received calls from two CAAV officers, not CAAV heads, inviting him to attend a simulation flight, which took place at night. Meanwhile, journalists were not here to witness the test.
New north-south flight route would offer airlines savings
Aviation companies can save on flying time and fuel if they are allowed to take the proposed Ha Noi-HCM City air route crossing the airspace of Laos and Cambodia.
However, the governments of Laos and Cambodia are charging transit fees for flights passing through their airspace which aviation companies find to be too high. Director of the Civil Aviation Authority of Viet Nam (CAAV) Lai Xuan Thanh told thesaigontimes.vn that Laos and Cambodia were currently reviewing Viet Nam's proposal to have the fees cut by 50 per cent.
The CAAV recently reported the results of flight simulator (SIM) tests, which it carried out with the help of Vietnam Airlines and Vietjet Air, on the proposed route from Noi Bai Airport in the capital city to Tan Son Nhat Airport in HCM City on September 3 and 4.
The tests showed that the route was 1,191 kilometres, or 85 kilometres shorter than the usual route that aviation companies were taking over the ocean. The flight takes only 103 minutes, a savings of five minutes of airtime, and consumes only 4,140 kilograms of fuel, a savings of 190 kilograms.
Minister of Transport Dinh La Thang earlier ordered the launching of the proposed route at the soonest possible time, to shorten flights between Noi Bai and Tan Son Nhat airports and save on time and fuel.
The CAAV director said Laos and Cambodia were planning to charge a transit fee of US$622 for each A320 plane passing over their airspace. Laos will also be charging $225 for each A321 plane and $330 for each B777/330 plane. Cambodia will be charging $412 for each A321 plane and $486 for each B777/330 plane.
Former pilot Mai Trong Tuan proposed the route, called the "golden route," in March 2009. If the route is finally launched, planes will be flying between the capital and HCM City over Laos and Cambodia, rather than over the ocean, following Viet Nam's S-shaped coastline - VNS
Kim Chi