The Lao Ministry of National Defence and the Vietnamese Defence Attache Office in Laos on May 9 held a ceremony to mark the 65th anniversary of the Dien Bien Phu victory (May 7) which ended the French rule in Vietnam.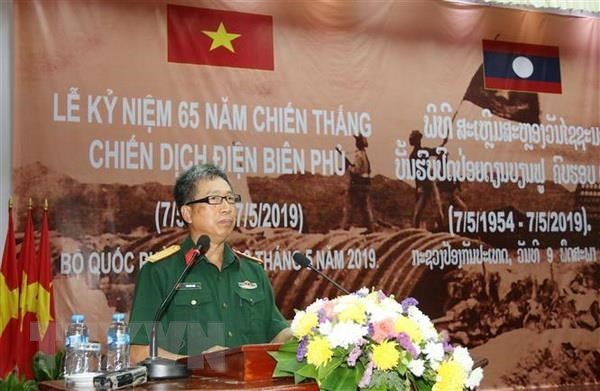 Vietnamese Defence Attache in Laos Colonel Tao Van Thai speaks at the event.
In his opening remarks, Lao Deputy Defence Minister Lt. Gen. Phuvong Vongphom recalled the victory of the Vietnamese army and people 65 years ago, saying it is also the victory of Lao and Cambodian peoples who shared the same energy and the goal of national liberation with Vietnam.
Under the sound leadership of the Communist Party of Vietnam, the Vietnam People's Army and people have gained successes in reform, revolutionary achievement protection and socialism building, significantly contributing to peace and stability in Asia-Pacific and the world at large, he said.
This has created great momentum for the Lao army and people in national defence and development, the official stressed.
Officers and soldiers of the Lao People's Army will learn from the traditions and spirit of their Vietnamese counterparts, and join efforts in nurturing and promoting the great friendship, special solidarity and comprehensive cooperation between the two countries and armies, he said.
Sharing Phuvong Vongphom's views, Vietnamese Defence Attache in Laos Colonel Tao Van Thai said the Dien Bien Phu victory is a joint one among the three Indochinese nations, the triumph of solidarity and combatant alliance between Vietnam and Laos.
He took the occasion to thank the Lao Party, State, army and people for their valuable support to Vietnam during the past struggle for national liberation as well as the present national construction and defence.
The Dien Bien Phu Campaign lasted from March to May 1954 under the command of General Vo Nguyen Giap. Vietnam's victory on May 7, 1954 led to the signing of the 1954 Geneva Accords in which France agreed to withdraw its forces from its colonies in Indochina.-VNA