Recommendations to promote innovation and the startup ecosystem in Vietnam were highlighted at a workshop held by the Vietnamese Embassy in Germany on May 15.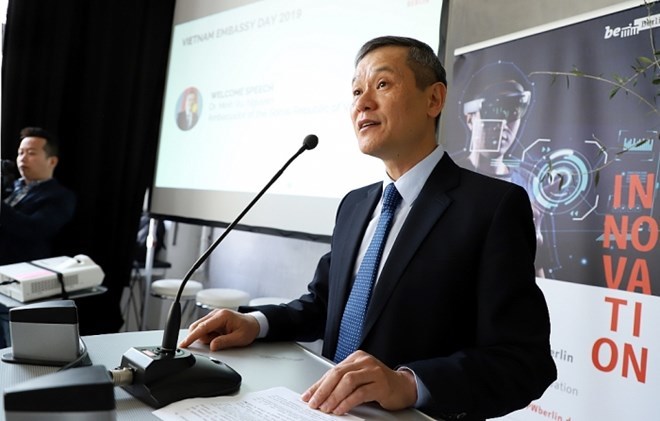 Vietnamese Ambassador to Germany Nguyen Minh Vu speaks at the workshop. (Photo: Vietnamese Embassy in Germany)
The event, organised within the framework of the Embassy Day - Asia Pacific Week Berlin 2019, drew the participation of some 100 people, including representatives of large corporations like Siemens AG and FPT's German branch, as well as startups in the host nation.
Vietnamese Ambassador to Vietnam Nguyen Minh Vu affirmed that Vietnam has been consistent in attaching much importance to innovation, considering it as a pillar for economic development.
Concerted efforts made by the Government and private firms, coupled with advantages in human resources, have made Vietnam a centre for technology startups in Asia, Vu said.
Vietnam and Germany boast huge potential for cooperation in the field, he said, stressing that besides helping Vietnam develop innovation and startups, German firms and organisations have various opportunities to expand their business network and R&D activities in the Southeast Asian country.
The Embassy Day is a biennial event held in May, part of the Asia-Pacific Week Berlin held by the Asia-Pacific Forum Berlin and the Senate Department for Economics, Technology, and Research.
This year, the Asia-Pacific Week is taking place from May 13-19, focusing on innovation and the startup ecosystem, major trends of the Fourth Industrial Revolution, smart cities' connection, and cooperation between Germany and Asia, among others.–VNA