Japan-based Leverages JSC has launched the Vietnamese version of its website at https://we-xpats.com/en/destination/as/jp/, aiming to provide the Vietnamese community in Japan with relevant information on the country.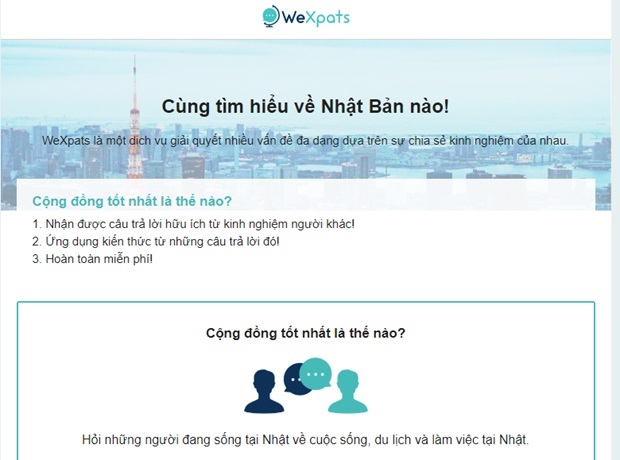 The interface of the website
This online forum provides information on Vietnamese expatriate life in Japan by sharing the experiences of its members.
According to statistics from Japan's Ministry of Justice, the Vietnamese population living in the country has continuously increased over the past decade. In 2018, there were 330,885 Vietnamese people living in Japan, up from 40,524 a decade ago.
In recent years, along with language barriers, differences in culture and law have caused many difficulties for Vietnamese people living, studying, and working in Japan.
Leverages built the website to serve as a forum for Vietnamese expats in Japan to share their experience and collect relevant information.
The website also includes articles containing useful information about Japan translated from Japanese documents by both native authors and Vietnamese people living in Japan.
Previously, in April, Leverages launched the WeXpatsVietnam site on Facebook, which attracted more than 13,000 followers.
Leverages has set to increase the number of WeXpats users to about 40,000 within the next year. It is looking to build a solid foundation to support those who want to reach other countries in the world, not just Japan, and solve problems related to life abroad for everyone.
Founded in April 2005, Leverages is an information technology company based in Tokyo, Japan. It is actively promoting its plan to expand business beyond Japan and hopes to establish 25 overseas offices in the next five years.