VietNamNet Bridge - Vietnamese and American artists will organize an exhibition that combine painting display and art performance in the ground amid the Red River on March 2.
Seeking brighter lives in big cities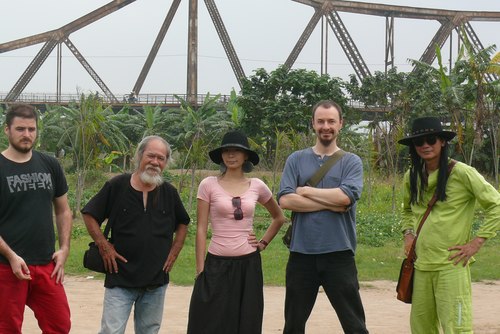 The artists who will perform in "Rural Market".
The show called "Rural Market" will start from 10:30 am. In this program, painter Nguyen Than will introduce his large-sized painting entitled "Rural Market," with an area of 180m2.
Meanwhile, Dao Anh Khanh and Doan Minh Hoan will contribute with a performance art show.
American artists Robert Pepper and Brett Zweiman came to Vietnam since mid-February. They will have unique performances.
These two artists from New York will use traditional instruments of the Vietnamese villages such as percussion, flutes, drums, gongs (the instruments that are used in village festivals) to play contemporary music.
The artists who perform in the "Rural Market" are those who recently participated in the contemporary art performance "Dao Xuan 8" of artist Dao Anh Khanh in Hanoi.
Through the "Rural Market," the artists want to recreate the village life and culture of thousands of years through the eyes and the way of contemporary artists.
Mai Lan