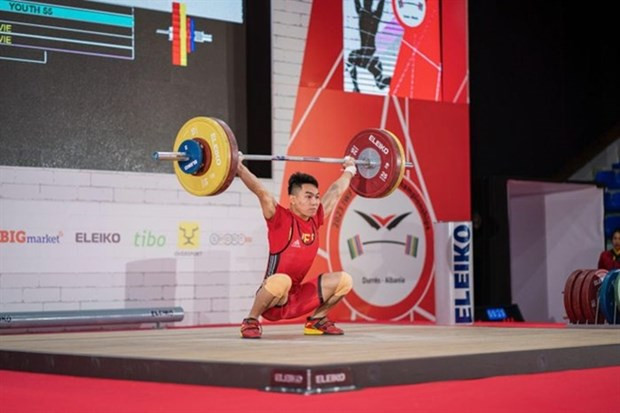 K'Dương of Vietnam wins three golds and set three new records at the World Youth Weightlifting Championships. (Photo of IWF)
Tran Thi Hien finished second in the women's 81kg category with a lift of 96kg in the snatch. She was behind Tuana Suren of Turkey who lifted 104kg. Etta Love of Canada came third on 95kg result.
In the clean and jerk, Hien finished third with 124kg attempt to win a bronze. Love was on top with 130kg and Suren followed with 126kg.
In the total, Hien took second bronze of 220kg. Suren with 230kg and Love with 225kg finished first and second, respectively.
The Vietnamese team completed the world event with a ninth place finish, bringing home three gold, three silver and four bronze medals.
Turkey, Kazakhstan and the Philippines were three top teams, respectively.

K'Duong of Vietnam was voted the most impressive lifter of the tournament as he won three golds in the men's 55kg class. His results of 114kg-144kg-258kg are three new world youth records.

The world championship is an annual tournament organised for the first time in 2009 featuring athletes aged from 13-17 years old.

The Durres event was held from March 25 to April 1 with 20 weight categories for men and women. Vietnam had eight representatives, five men and three women./. VNA