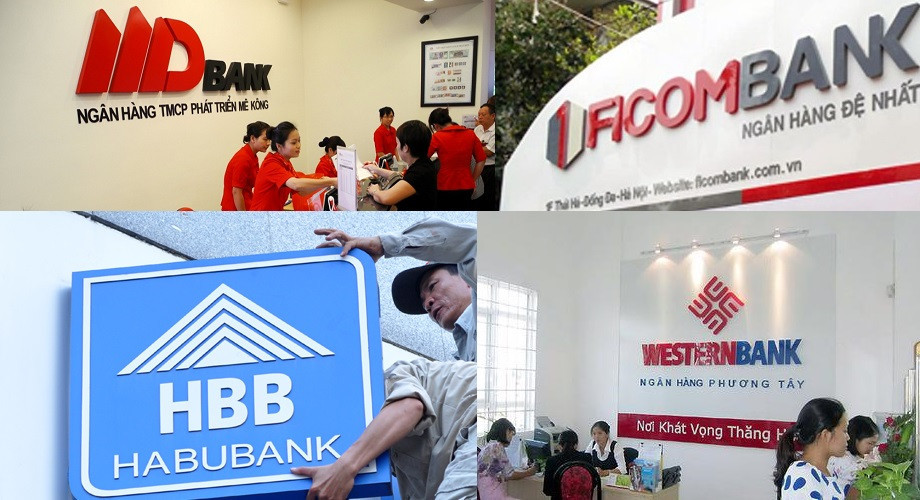 Nam Do Commercial Joint Stock Bank
Nam Do was a bank based in Ho Chi Minh City, which operated strongly in the mid-90s of the last century. However, under impacts of the Asian financial crisis in 1998, this bank could not recover debts.
In 1998, after a series of violations in credit activities, Nam Do Commercial Joint Stock Bank was insolvent and was placed under special control by the State Bank of Vietnam.
To ensure the safety of the banking system as well as stabilize the socio-economic situation in Ho Chi Minh City, the Prime Minister and the State Bank of Vietnam assigned the Bank for Investment and Development of Vietnam (BIDV) to participate in controlling Nam Do Bank.
BIDV established a special working group to assess the entire situation of Nam Do Bank and propose solutions.
Viet Hoa Commercial Joint Stock Bank
In 1993-1997, by making false documents, lending and allow money withdrawal without collateral... Chairman Tran Tuan Tai, two Deputy General Directors Truong Kiet Tuong and Nguyen Van Minh and accomplices withdrew VND 1,500 billion from the bank, causing serious damage to Viet Hoa, other businesses and banks.
The case was prosecuted in 1997, with 75 defendants and brought to trial in 2022. According to the indictment, to withdraw money from Viet Hoa Bank, the above defendants used fraudulent tricks to appropriate more than VND 293 billion and US$ 84 million.
Ficombank and Tin Nghia Bank
On January 1, 2012, Saigon Commercial Joint Stock Bank (SCB) officially came into operation after merging SCB Bank, First Bank (Ficombank) and Vietnam Tin Nghia Bank.
Before the merger, these banks fell into serious insolvency due to using short-term capital for medium and long-term loans (mainly in the real estate sector).
10 years after the merger, SCB is now under special control again.
Habubank merged into SHB
On August 28, 2012, Hanoi Housing Commercial Joint Stock Bank (Habubank) was merged into the Saigon - Hanoi Commercial Joint Stock Bank (SHB).
For Habubank, loans and bond investments associated with the Vietnam Shipbuilding Industry Group (Vinashin) were identified as the biggest burden leading to the merger. Habubank's bad debt ratio before the merger was 23.66% (equivalent to VND3,729 billion).
Western Bank - PVFC
Western Bank, with an initial charter capital of only VND 320 billion, had up to VND 3,000 billion by 2011.
However, difficulty in risk management and control, plus a very large percentage of the bank's credit goes to backyard businesses and insiders, leading to the merger of Western Bank into the PetroVietnam Finance Joint Stock Company (PVFC) in 2013. On that basis, PVcomBank was born with a charter capital of VND9,000 billion.
Dai A Bank merged with HDBank
In 2013, a voluntary merger took place between Dai A Bank and HDBank. Accordingly, Dai A Bank with charter capital of VND 3,100 billion merged with HDBank, which had charter capital of VND 5,000 billion at that time.
After the merger, HDBank inherited all assets, rights, obligations and benefits from Dai A Bank.
Mekong Development Joint Stock Commercial Bank
According to the decision of the State Bank of Vietnam, the Mekong Development Commercial Joint Stock Bank (MDB) merged with the Maritime Bank in 2015.
In this merger deal, MaritimeBank issued an additional 375 million shares to swap shares for MDB at the ratio 1:1. All shareholders of MDB have become shareholders of MaritimeBank.
Southern Bank merged with Sacombank
Southern Bank officially merged with Saigon Thuong Tin Commercial Joint Stock Bank (Sacombank) in October 2015.
Southern Bank was established in 1993, with charter capital of VND 10 billion. After 22 years of development, the bank increased its charter capital by 400 times to VND 4,000 billion. However, the bank's business performance was not very positive when bad debts increased and profits were low. In 2013, this bank's profit before tax was VND 18 billion and only VND 17 billion in 2014.
In addition, some banks after their restructuring process changed to a completely new name. Nam Viet Commercial Joint Stock Bank (Navibank) changed its name to National Citizen Commercial Joint Stock Bank (NCB) in 2014; Gia Dinh Commercial Joint Stock Bank changed its name to Viet Capital Commercial Joint Stock Bank (VietCapital Bank) in 2011; and Dai Tin Bank (TrustBank) was renamed into Construction Bank in 2012.
Tuan Nguyen