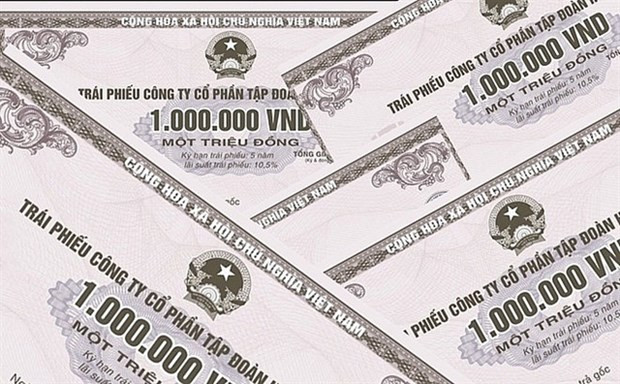 It followed a meeting with voters (members of the public) the State Bank of Vietnam (SBV) held in Ho Chi Minh City amid the ongoing bond market troubles.
Besides asking for underwriting banks to take responsibility for redeeming bonds, the voters also urged the SBV to tighten inspection of credit institutions to ensure they comply with regulations while investing in bonds.
The SBV recently raided 11 banks and fined a number of them for violating regulations related to bond purchases. Under current regulations, banks must have an internal credit rating system and can only buy bonds if their bad debts ratio is below 3%.
For bonds sold in the domestic market, when issuers cannot pay in full and on time the bond principal and interest, they must negotiate with bondholders for extending the term of bonds (up to two years) or paying by other assets.
Banks are prohibited from buying bonds issued by a business to restructure its debts or raise working capital.
The SBV also plans to make credit ratings mandatory for public issuances of bonds to ensure the market is healthy and transparent.
The SBV said it would work with the Ministry of Finance, State Securities Commission and other agencies to develop the bond market into an important channel of medium- and long-term capital mobilisation.
SCB scandal
Referring to the arrest of Truong My Lan, chairwoman of property developer Van Thinh Phat for alleged fraud related to issuance and trading of bonds last October, the voters wanted the ministry and the securities watchdog to keep bondholders informed about the investigation progress to regain their confidence.
A number of bondholders have already filed a lawsuit against the Sai Gon Joint Stock Commercial Bank (SCB) and Tan Viet Securities for "cheating."
The litigants, mostly long-term depositors in the bank, said they had been sold corporate bonds by the bank's staff but led to believe they were depositing in a "flexible saving-like product" from which they could withdraw money at any time after 31 days.
Many of them have repeatedly gathered outside the central bank's head office in Hanoi since the arrest, demanding SCB, which is now under the central bank's special control, should return their money by buying back the "fraudulent" bonds it sold to them.
Speaking at several meetings with people who bought bonds through SCB, SBV Governor Nguyen Thi Hong said: "The central bank will continue to work with concerned agencies to ensure that the legitimate rights and benefits of investors are protected."
The Ministry of Finance has said: "The investigation agency is handling this case. We have not received any information on the progress, results or recommendations."
Investor confidence in the bond market has tumbled following scandals.
Many investors who bought bonds through banks have complained they have not received principal or interest in time.
A recent government decree to resolve problems faced by the corporate bond market has not managed to revive investor confidence, experts said.
The decree, which allows issuers to extend bond redemption by up to two years, only helps prevent the market from collapsing but does not protect bondholders, they said.
Who is to blame?
Prime Minister Pham Minh Chinh has blamed the Ministry of Finance, particularly the State Securities Commission of Vietnam, and the central bank for poor management of corporate bonds.
The ministry has said bond issuers must be responsible for paying interest and principal in full and in time.
Despite its shortcomings, the bond market has room to grow due to high capital demand from businesses, the ministry has said.
But experts pointed out that investor confidence would not return unless the Government addresses all the problems they face and safeguard their rights.
Corporate bonds worth a huge amount of money are set to mature this year and next year, putting tremendous pressure on issuing firms, mostly in the property industry, who now have a liquidity crunch but are prohibited from making fresh issuances to restructure their debts.
As of the end of 2022 banks were holding nearly 190 trillion VND (8.09 billion USD) worth of corporate bonds.
They included Military Bank (MB), VietinBank, BIDV, Vietcombank, Techcombank, VPBank, TPBank, SHB, Bao Viet Bank, HDBank, VietinBank, Bac A Bank, OCB , MSB, NamABank, VIB, Kien Long Bank, and SeABank.
MB, Techcombank, VPBank, TPBank, and SHB had the biggest holdings./.VNS