Vietnamese couple help German bicyclist in distress
Trung and Nhung, a Vietnamese couple, on the way to travel across Vietnam on Tet holiday, saw a foreigner who was facing troubles because of strong winds in Ninh Thuan.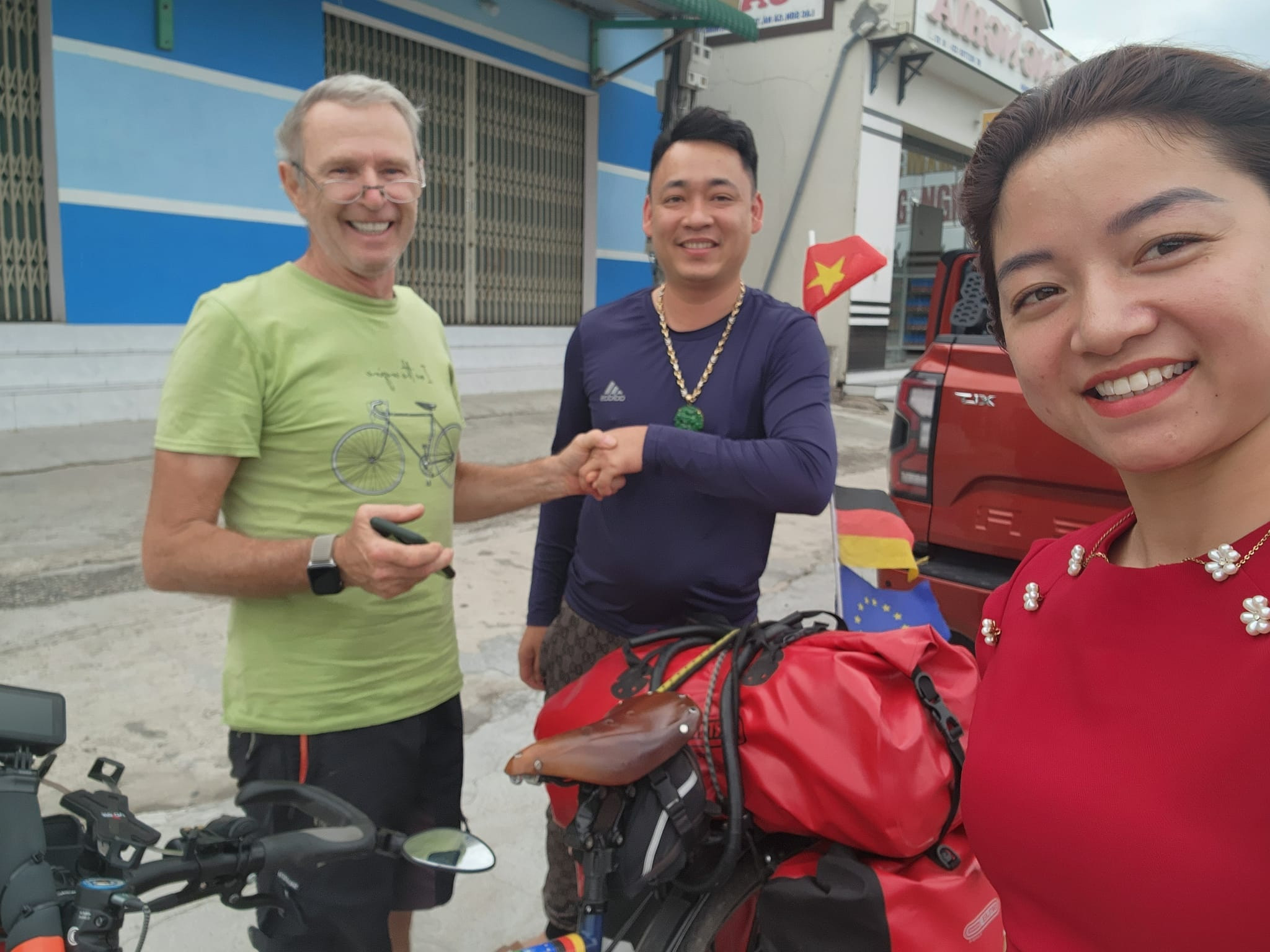 A video on Jan 28, on the seventh day of the Lunar New Year of the Cat, was posted showing the Ca Na coastal road in Ninh Thuan province. Tran Trung, the husband, born in 1988 in Quang Ninh, posted the video on the internet.
Trung and his wife were on a trans-Vietnam tour when they came to the Ca Na coastal road, meeting strong winds, which made it very difficult to move. They saw a foreigner who was struggling to tow his bicycle. Trung stopped the car to help the man.
After the man got into the car, Trung learned that the traveler was from Germany and was taking a trans-Vietnam tour by bike. The man fell and scratched his limbs, could not ride the bike, and could not walk because of the strong winds.
The clip showing the behavior of the couple toward the foreigner has caught the attention of netizens with hundreds of thousands of views and many comments.
"It's very kind of you to help the foreigner. I wish you good health and happiness. I think the foreign man loves Vietnam very much as I can see a small flag stuck to his bike," a netizen commented.
"A great deal of thanks to you, Trung and Nhung. With your behavior, you can show the world that Vietnamese are friendly and nice," another netizen wrote.
A VietNamNet reader said that he had also cycled through this section of road. When he finished riding on the pass and going down to the salt field, strong winds arose. It took him one hour to travel only five kilometers.
"I wish there was a 'one million like' button to give to you. You have made a beautiful act that needs to be spread. I wish you health."
Trung is a well-known name to many netizens. In 2020, he traveled 1,000 kilometers from Quang Ninh in the north to the central region to give support to local people who were affected seriously by floods.
Trung always gives gifts and money to the poor on Tet and holidays.
He was also the person who joined forces with the community to support the Covid-19 prevention and control in Bac Giang and Bac Ninh in 2021. He collected food, medical equipment and goods (protective masks, disinfectant and protective clothes) to contribute to the nation's fight against the pandemic.
Lam Giang