Marathon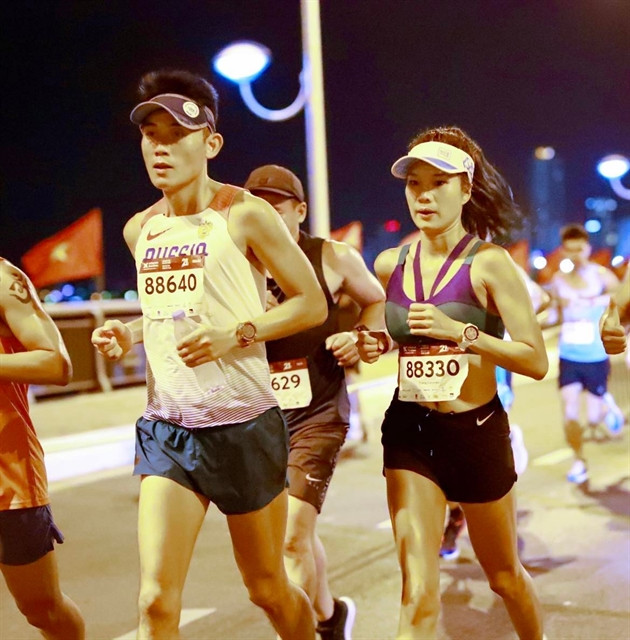 Nguyễn Đông Định and Thái Thu Trang is currently the best marathon couple in Việt Nam. They are among 10 Vietnamese athletes to compete in the 2023 Boston Marathon in April. Photo vn.vnexpress.net
If finishing a full marathon is a target of many runners, then running the famed Boston Marathon is a marathoner's dream.
Nguyễn Đông Định and Thái Thu Trang are the first Vietnamese couple to earn their slots to run at the world's oldest and best known road running race this April.
The registration for the Boston Marathon opened last September and Trang sent her application in the first day as she spent three years practising and competing to reach the qualification standard of the tournament. Her husband sent his in three days later.
Months later, the couple could not be happier as they were among 10 Vietnamese runners accepted. They are looking forward to running one of the six World Marathon Majors.
"It is not easy to join such a big event. We have talked and planned to join all six largest marathons together. And the American tournament will be a memorable milestone for us," Trang told Việt Nam News.
Running by chance
Định and Trang have practised different sports before they decided to try marathon running several years ago. The switch changed their lives completely.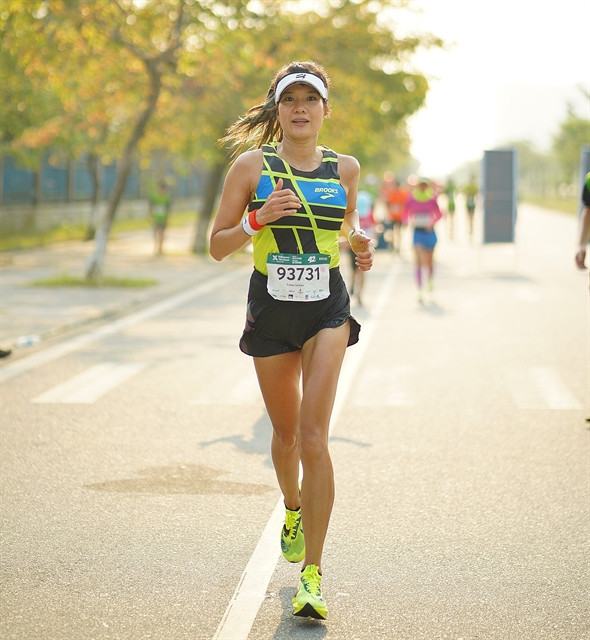 Thái Thu Trang runs and sets her PB at the Marathon Imperial Huế 2022. She qualified for the Boston Marathon, one of the largest running event in the world. -- Photo vm.vnexxpress.net
Trang started having problems with shortness of breath, dizziness and arrhythmia when she turned 38 in 2015. Doctors could not find what the problem was or how to treat her. Her health was diminishing terribly, causing her a loss of confidence. She was unable to drive or fly and kept away from crowded places.
In an attempt to improve the situation, Trang rearranged her life and started running.
"I ran slowly. It was exhausting at first but after a while I found that my health got much better," said Trang who then joined her friend to take part in a 25km trail event, her first running competition in 2018.
Her husband meanwhile had no intention with running, but took part in the event to support his wife in case any issues arose.
"I wasn't very excited at first but signed up because I was worried about something going wrong with my wife," Định said.
"I still remember how hard it was to complete the race; I didn't expect trailing to be so tiring. My wife was tired after five hours moving, but she was happy and felt good. Turning home, we set up a plan to practise together. Marathons are tough because it takes time to practise, while requires strong fitness and patience.
"The higher your target, the more risk of injuries you get. I read books and researched running technique and did the exercises seriously and scientifically. I progressed quickly and was excited about it, while my wife's health improved a lot. "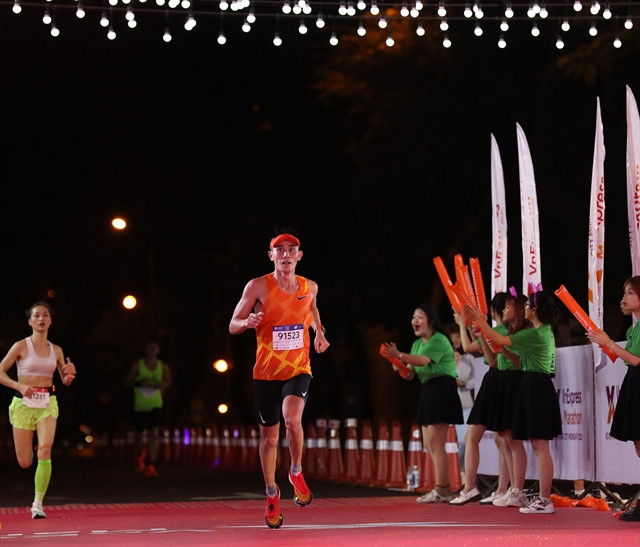 Nguyễn Đông Định finishes first in the men's 40-49 year-old group at the HCM City Midnight Marathon on February 12. -- Photo vm.vnexxpress.net
Since then, the couple has gone together on 13 full marathons and many other trail events. They surprised the running community with their achievements, with a number of top-three finishes after short time and at their age bracket of over-40.
"This sport is amazing as after completing our race, we enjoy a stronger body, positive attitude, happy feeling and confidence," said Định.
After one year and a half, Định reached his target of running a full marathon under three hours, while Trang made it under four hours at the Breaking 3 Marathon 2020.
Like other marathoners, the couple sets their goal on international competitions, and their eyes are on Boston.
"My husband reached the Boston qualification by the end of 2019. He ran nine minutes faster than the standard of 3hr 1min. While I was far away from the target. Tiredness and injuries sometimes made me think of quitting but Định encouraged me and believed that I could make it," Trang said.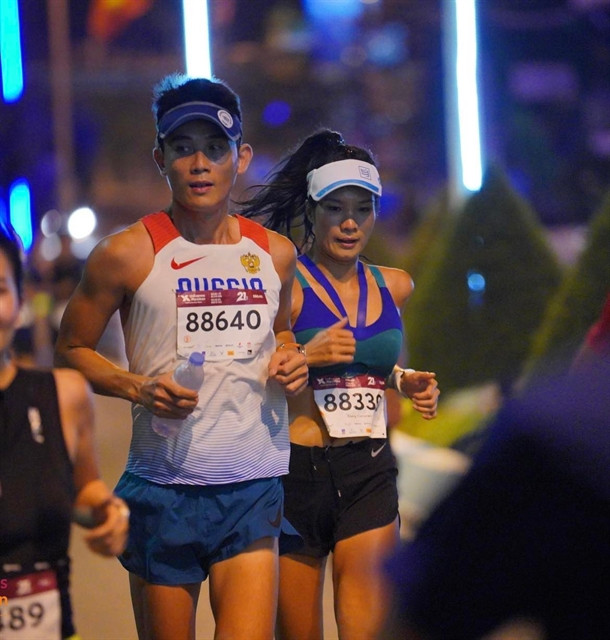 Định and his wife Trang run at the Marathon Mavelous Nha Trang in 2022. -- Photo vm.vnexxpress.net
It was the VnExpress Huế Marathon 2022 which saw Định beat the standard again. His time was 2:44.39, about 35min better than the target. Meanwhile, Trang finally succeeded at 3:43.52, nearly 7min faster than required.
"This is a big gift for our effort, determination and hardship that we have made and overcome to reach our dream," she said.
Marathon couple
After four years running, Định and Trang are among the most famous marathon couple in Việt Nam.
They have not only gained high results in short time but are also among the fastest, dominating their age category.
Their sub three-hour and sub four-hour results are major challenges for many amateur runners, especially for those over-40.
"We are lucky as we can manage our jobs to set time for training. High results from tournaments are strong pushes for us to prepare for the next events," Trang said.
They also inspired many other people, friends, relatives and colleagues, including their two sons, to join the running track.
"Our running journey was an inspirational story which taught our sons many lessons about companionship, team work, sharing and success in life. Our sons all love sports and are self-disciplined. They keep practising to have a well-balanced and a fit body," Trang said.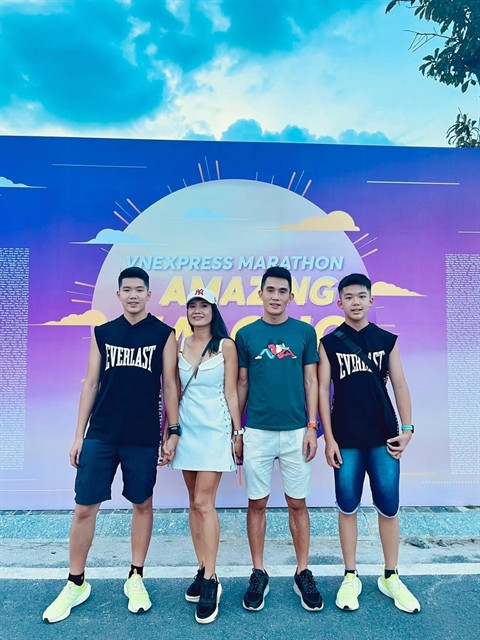 All four members of the marathon family pose for photo after their Amazing Hạ Long Marathon 2022. Photo courtesy of Thái Thị Trang
The teenagers have followed their parents to a number of tournaments and grabbed results in the junior categories.
"Marathons keeps me fit and active. They create many moments of joy while reducing stress and tension. I find myself happy and optimistic about life. My family members are busier but love each other more," said Trang.
Ready for the big day
"The marathon not only gives us good health but also high confidence. It will also bring us to Boston, a wonderful miracle for us," Trang said.
"Boston's track has many slopes. The temperature is often low, and in some years it has rained throughout the race. We will have to adjust our training plans to prepare for these challenges in addition to having a relaxed and comfortable mind for the tournament."
Trang and her husband will also take part in the National Marathon Championship, next month in Lai Châu before leaving for the US.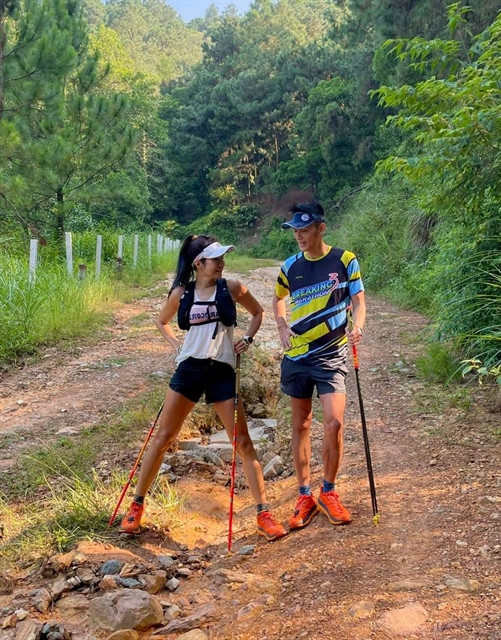 The couple will take part in the National Marathon Championship before heading to Boston. -- Photo courtesy of Thái Thu Trang
In their last warm-up competition, the northern mountainous province's terrain should help the couple practise better for the April 17 event.
"All the formalities are done; the visa, hotel and tickets are booked. We are looking forward and excited about this experience. It's great to be running together in Boston 2023. We hope that we will grab as good results as planned," Trang said. VNS