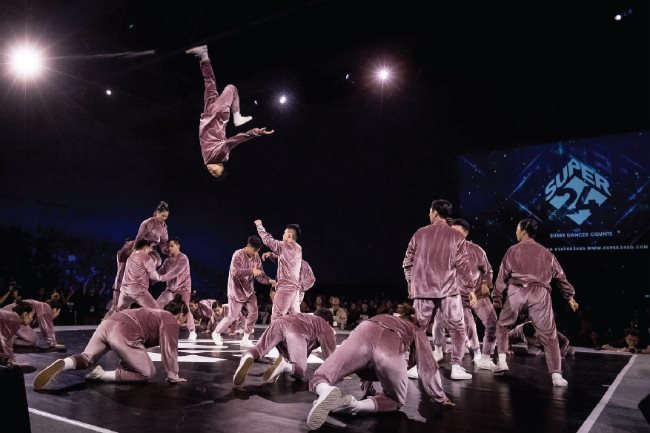 LYRICIST performs at Super 24 2019 ASEAN Open Championship - PHOTO: COURTESY OF ORGANIZER
In the final round of the Super 24 season 8 held at Singapore Sports Hub, OCBC Arena, LYRICIST made a strong impression on the judges of Super 24 and dance community in the area with a special performance carrying the message "Be yourself", becoming the first Vietnamese dance crew to win the ASEAN Open Championship of Super 24.
Larkin Poynton, one of the four judges of Super 24, has shared thought about the performance of LYRICIST that scored 19 out of 20: "To do a piece that touches, that moves, that makes me excited in one minute is very difficult, and you show a lot of maturities."
The contributor to LYRICIST is Alexander Tu, Doctor of Occupational Therapy, director of Performing Arts of Soul Music and Performing Arts Academy, and also founder of LYRICIST. He is the main choreographer for the spectacular performance, which was about "pursuing what you love and giving it your all and it doesn't matter what people think."
Regarding the difficulties of this performance, Alexander Tu said: "Giving meaning to movements, this routine has so many elements from soft to smooth movements, as well as big and explosive movements to impress the audience and judges. We had big tricks, flips, and group acrobatic movements to emphasize the music and specific moments in the performance. We utilized all four sides of the stage, we incorporated floor works as well."
"LYRICIST are individuals who truly were passionate about dance, showed potential talent and eagerness for growth, and more importantly, were their willingness to learn and showed not only humility but also hungriness to achieve their fullest potential and work towards the goals of the group. Through this competition, LYRICIST hopes to inspire the next generation of passionate artists. Through passion, dedication and hard work, we can show the world on an international stage how talented our Vietnamese youth really is."
Originating from Singapore, Super 24 has brought a new dimension to dance competitions. With the increase in popularity and development of dance groups, this competition is not only a new dance platform but also a program to emphasize artistry, raise standards and build community.
Super 24 emphasizes teamwork and ingenuity, qualities that are essential to working within the novel constraints this competition brings.
The Super 24 season 8 is the largest-scale dance competition ever, with the participation of the best dance crews comprising more than 1,700 dancers.
The jury comprised four international renowned choreographers and dancers namely Emmy winning choreographer Hok, Pat Cruz, Larkin Poynton, and Dylan Mayoral. SGT
Minh Tuan