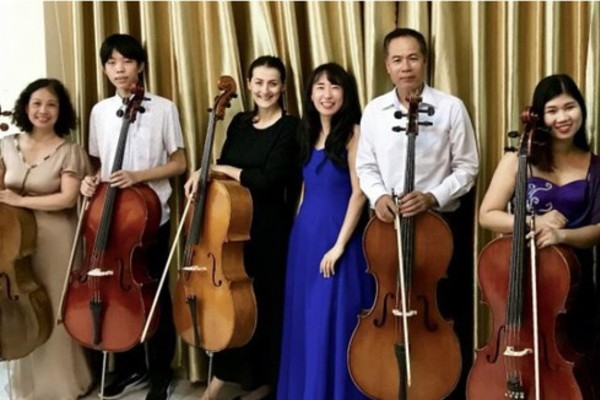 Hanoi New Music Ensemble - Photo: Courtesy of organizer
The Hanoi New Music Ensemble will start the evening with Jorg Widmann's "Fieberphantasie" for piano, string quartet and clarinet.
In "Fieberphantasie" (Fever Fantasy), Jorg Widmann deals with the melodies of Schumann.
Widmann describes them as kind of a fever curve that is "nervous, flattering, febrile" with "countless smaller and bigger wave troughs and wave crests inside of a bigger lining."
The piece is performed by the Hanoi New Music Ensemble in collaboration with clarinetist Janßen-Deinzer and cellist Lucas Fels, according to the Goethe-Institut.
Nina Janßen-Deinzer studied in Hanover at the school of Hans Deinzer. She worked as a solo clarinetist of Ensemble Modern from 2006 to 2017.
As a solo artist, she performed many plays at various festivals like Ultraschall Berlin, Festival NOW Essen, and Berliner Festwochen. Since 2015 she has worked as a professor for chamber music at Music College Nuremburg.
Lucas Fels studied at Christoph Henkel in Freiburg, at Anner Bijlsmain in Amsterdam and at Amadeo Baldovino in Fiesole. He did more than 1,000 first plays for 100 CDs of solo- and chamber music of the 20th and 21st centuries.
He was a co-initiator of ensemble recherche Freiburg, cellist and music executive from 1985 until 2005. For Arditti String Quartet London he has played cello since 2006.
He has held a professor chair at Music And Performing Arts College Frankfurt for interpretative practice and communicating new music since 2013.
"Fieberphantasie" will be followed by Olivier Messiaen's famous piece "Quartet for the end of time", which deals with motives from the apocalypse.
The French composer wrote the piece consisting of eight movements as a prisoner in the war prisoners camp in Gorlitz.
The commanders of the camp allowed him to compose. The rather unusual instrumentation was due to the musicians that were available in the camp, including clarinettist Henri Akoka, violinist Jean Le Boulaire and cellist Etienne Pasquier.
The first play of the piece, in which the composer played the piano, took place in 1941 in the camp in front of 400 war prisoners.
The concert will also feature the world premiere of "Hanoise", a new composition that musician Vu Nhat Tan wrote especially for the Hanoi Music Ensemble.
"Hanoise" reflects the richness of sound and space of the capital city. It is a piece where Western instruments from the symphony orchestra and traditional Vietnamese instruments come together. "Hanoise" is a piece of cultural exchange through contemporary music.
Founded in 2015, the Hanoi New Music Ensemble is the only professional music ensemble for contemporary music in Vietnam.
Its members are among the nation's finest professional musicians, serving also as professors at the Vietnam National Academy of Music and performing with the Vietnam National Symphony Orchestra and Sun Orchestra.
This concert will be led by Japanese conductor Honna Tetsuji. The event offers free admission and starts at 8 p.m. at the Grand Concert Hall. SGT