Vietnamese man uses AI to create Petkix, an interactive camera for pets
Based in the US, Petkix is a company that manufactures technological devices for pets.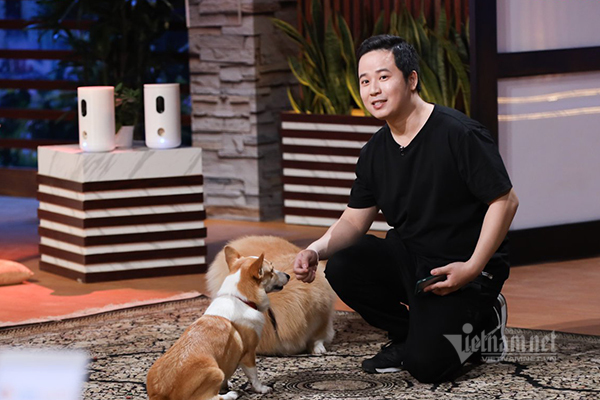 Michael Nguyen, the Chief Executive Officer and founder of Petkix, has deep knowledge in mathematics, economics and algorithms. He once worked as chief engineer of an e-commerce startup in the US, which had annual turnover of $80 million.
With an impressive curriculum vitae, Michael immediately caught the attention from Shark Tank Season 4, a well known TV series. This helped Petkix call for $120,000 worth of capital in exchange for 20 percent of shares.
During school, Michael stayed at a dormitory far away from his home. At that time, he had a pet called Mini at home. In order to interact with Mini, he had to spend three hours to drive his car to get home on weekends, and then had to get up early at 5 am on Monday to go to school.
He decided to create a tool that allowed him to interact with the pet from a distance, via the internet.
Using artificial intelligence
As a hardware firm, Petkix's major product is a camera that allows pet owners to Interact from a distance with a simple operation on app.
Unlike other cameras available in the market, the product is the only one which can rotate 360 degrees. It was developed with the AI features specifically designed for pets.
The special feature of the business model lies in the software. Petkix's camera can recognize pets' barking, crying, running, and messing around.
Thanks to the AI built-in warning system based on motion and sound, pet owners can regularly update the situation of their pets via the app. Petkix's camera allows them to watch, talk and play with pets.
Michael's team designed the circuit and livestream technology. The company owns the core technology, which can be applied to other products.
After 20 days of sale via crowdfunding, Petkix's camera collected $20,000. Because of high production costs, the AI camera will be priced at $179 when it is put on official sale. 
Currently, 70 percent of Petkix camera products are sold in the US, and 20 percent in Europe and Australia.
Trong Dat

With just a saddle-sized kit of tools, Wiibike can turn a normal bicycle into an electric bike easily.

The Ministry of Education and Training has just issued a plan to implement the project "Support for students by 2025 " which aims to improve students' awareness of entrepreneurial startup.