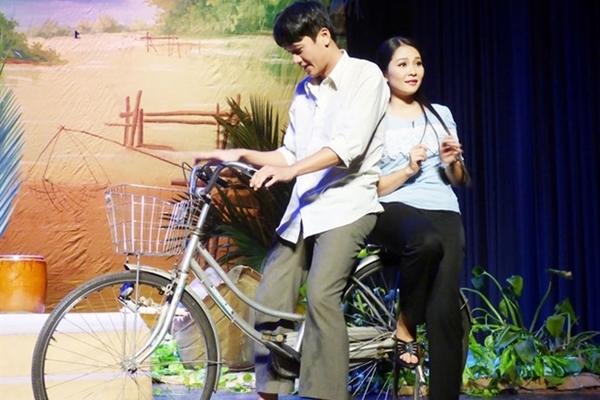 Young actors of the Thế Giới Trẻ Drama Stage performin the musical Đò Tình (Love Boat), directed by Tiết Duy Hòa, in HCM City. Photo courtesy of Thế Giới Trẻ Drama Stage
Director Tiết Duy Hòa and his staff have been rehearsing for the Broadway-style show, a production based on a short story by female writer Nguyễn Ngọc Tư of Cà Mau Province, who won the Southeast Asian Writers Award in 2008 from the Thai Royal Family.
Hòa's work includes 30 folk and vọng cổ (nostalgia) songs. Vọng cổ is a genre of traditional music used in cải lương (reformed opera) in the South, which began over 100 years ago.
"We wanted to challenge ourselves by using Vietnamese folk music in a musical, a new art form in Việt Nam," said Hòa, who is also a singer and comic actor.   
His play includes five acts featuring stories about young people living in rural areas from the Cửu Long (Mekong) River Delta region who face challenges in love and career. Through their stories, the culture and lifestyle of southern people will be highlighted.  
The play stars 15 young talents including Quang Tuấn, Diễm Phương and Minh Dự. The actors are graduates from the HCM City University of Theatre and Cinematography.
Tuấn, who plays a leading role, said: "I'm a newcomer to this art form. I spent several hours a day singing and dancing for the full show."
Director Hòa invited stage designer Huỳnh Thông to work on the production. "Thanks to Thông, beautiful scenes of Vietnamese villages of the Delta with rice fields, rivers and boats are featured in my play," said Hòa.  
Thế Giới Trẻ Drama Stage, one of the city's private theatres that opened in 2010, has attracted a group of young artists who love musicals. The theatre offers shows in different styles.
"Offering experimental art is part of our theatre's activities so that one day we can be recognised as a specialty art centre," said the theatre's director Trần Đại. "Our theatre gives young participants a chance to discover new techniques and ways of expressing themselves emotionally on stage."
Đại, also a founder of the theatre, said that investors and the managing board spent VNĐ5 billion (US$215,000) on upgrading the theatre last year to guarantee that "our young actors can be trained in different levels of performances".
The three-hour musical, Đò Tình, made its debut last weekend and left a strong impression on the audience of 200 guests. It will be staged at 8pm every Saturday in October and November at Thế Giới Trẻ Drama Stage at 125 Cống Quỳnh Street in District 1. — VNS