Vietnamese paintings return to homeland
The painting "Madame Phuong" by painter Mai Trung Thu recently sold for US$3.1 million, a high point in Vietnam's cultural life.
So far, seven Vietnamese paintings have sold for over $1 million. The first painting was "Family Life" by artist Le Pho, which was auctioned for over $1.17 million four years ago. This was the first time a Vietnamese painting sold for over $1 million at an international auction.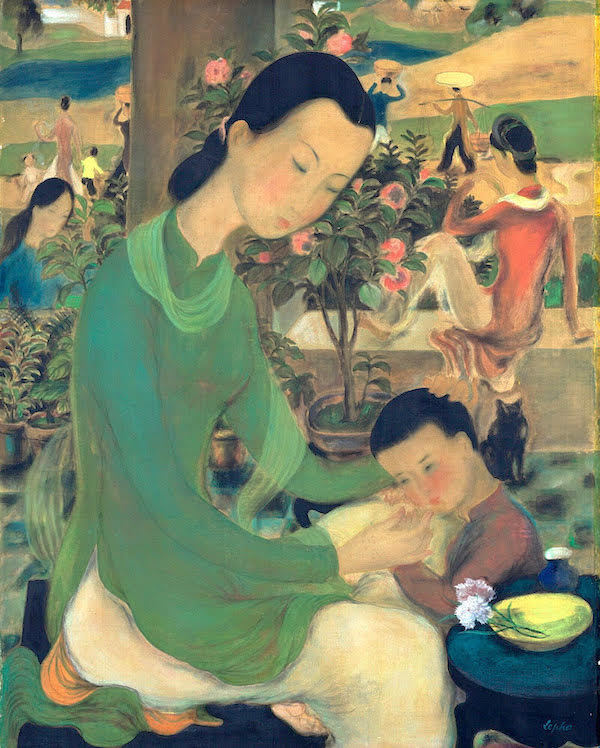 'Family Life' by Le Pho
Over two years later, another painting by Le Pho, "Nude", broke the record made by ' "Family Life'' when it was sold for nearly $1.4 million when auctioned at the "20th Century & Contemporary Art" auction held by Christie's in Hong Kong, China.
Besides these three paintings, others that were auctioned for over $1 million were "Self-portrait" by Le Pho, "Landscape of Thay pagoda" and "Nine carp in the lake" by Pham Hau, and "Disillusioned" by To Ngoc Van.
According to some sources, most of these paintings have been repatriated. The buyer of "Madame Phuong" is said to be a Vietnamese businessman named Q, who plans to open a private museum. Over the years, he has quietly bought many famous Vietnamese paintings.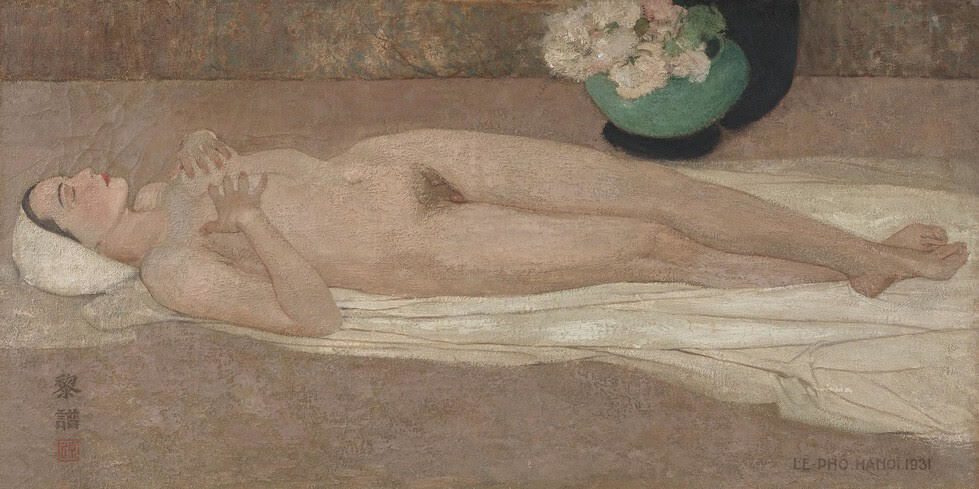 'Nude' by Le Pho.
Previously, paintings by well-known Vietnamese artists such as Le Pho, Vu Cao Dam, Mai Trung Thu, Le Thi Luu, Nam Son and To Ngoc Van were mainly bought by foreigners because seven or eight decades ago, few Vietnamese had an understanding and passion for the arts and were not aware of the value of art, as well as not being financially capable to buy these works.
It used to be a hot issue that in the early years of Doi Moi (reform) period of more than 30 years ago, many Vietnamese contemporary artworks went abroad, particularly Singapore. Both museums and individuals in Singapore bought quite a lot of Vietnamese paintings which were typical artworks of the Doi Moi period. Now those who want to admire these works have to fly to Singapore.
Joyful return
For any country, the presence of artworks by local artists at their museums or exhibitions is a source of pride for their culture in particular and the country in general. The repatriation of famous Vietnamese paintings is a highlight of the country's culture.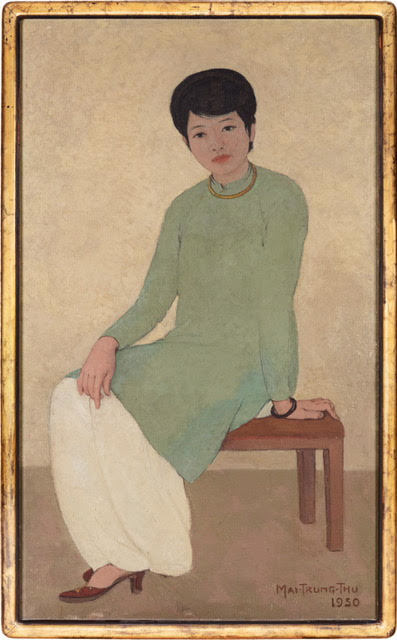 "Madame Phuong" by Mai Trung Thu
The million-dollar artworks bought by Vietnamese people are definitely a tonic for the domestic art market, which is fragile, unorganized and lacking in many fundamental elements. It can not only stimulate the market but also excite both buyers and artists.
Some Vietnamese artists who attended international auctions of artworks held by Sotheby's and Christie's said that usually paintings are bought by people from the painters' countries. They said that for a long time Vietnamese had not paid attention to Vietnamese artworks. This caused the prices of Vietnamese artworks to be lower than those of other countries in the region. Even when "Madame Phuong" set a new record in price, which doubled that of Le Pho's "Nude", the artwork that previously held the record for price, the price of Vietnamese paintings is still far behind that of Southeast Asian countries.
It is hoped that when Vietnamese begin buying Vietnamese paintings at famous auction floors the value of Vietnamese paintings will further increase.
Directors of the Vietnam National Fine Arts Museum of different periods lamented that under the past and present mechanism, the museum has failed to compete with even local panting collectors in buying valuable artworks, not to mention million-dollar paintings. This has made the museum less attractive to audiences.
The family of painter Le Thi Luu, a contemporary artist of the same age as Mai Trung Thu, Vu Cao Dam, and Le Pho, donated 26 paintings to the Ho Chi Minh City Museum of Fine Arts. With the repatriation of million-dollar Vietnamese paintings and such donations, it is very likely that local museums will one day have more famous artworks to present to the public.
At the most famous museums in the world, artworks donated by private collectors are also an important part. Buying paintings to donate to museums and the country is done by many wealthy people in the world. Vietnam is also part of this trend.
The million-dollar artworks by Vietnamese painters, which are expected to return to Vietnam include:
1, "Madame Phuong" by Mai Trung Thu - $3.1 million
2, "Nude" by Le Pho, $1.4 million
3, "Family Life" by Le Pho - $1.17 million
4, "Self-portrait" by Le Pho - $1 million
5, "Nine carp in the lake" by Pham Hau - $1.1 million
6, "Landscape of Thay pagoda" by Pham Hau - $1 million
7, "Disillusionment" by To Ngoc Van - $1.1 million
K.N

Japanese collector Itoh Toyokichi donated a collection of 238 paintings by famous Vietnamese painters to the central city of Da Nang.

The painting "Autoportrait dans la forêt" (A self-portrait in the forest) by Le Pho (1907-2001) fetched over one million dollars at an auction at Sotheby's, Paris on March 16.