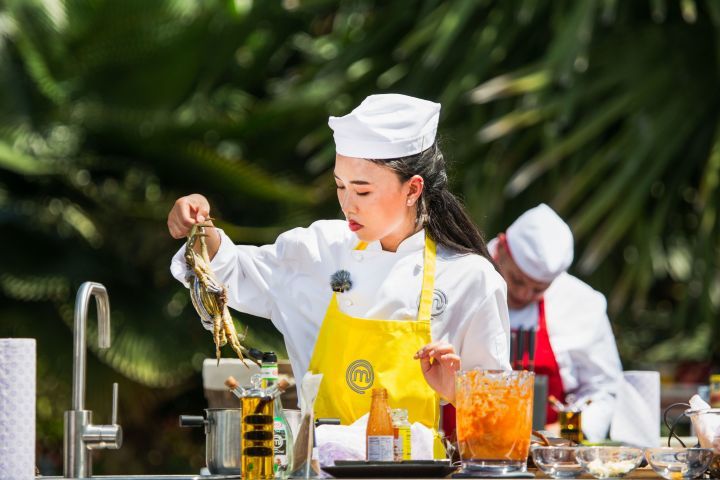 Vietnamese-Polish winner of MasterChef in Poland, Ms. Ola Nguyen
Photo: Embassy of the Republic of Poland
Hosted by the Embassy of Poland in Vietnam and the Sofitel Legend Metropole Hanoi, the event will give local people the opportunity to enjoy popular dishes from the central European country.
Twenty-two-year-old Chef Ola was born in Vietnam and raised in Poland, and launched her professional culinary career after winning the seventh edition of MasterChef Poland in 2018. She went on to write one of the country's best-selling cookbooks and accomplished all of this while studying finance at the Warsaw School of Economics.
Her five-course menu for "Polish Gastronomy Week" will feature traditional favorites enhanced by her own contemporary touch. The meal begins with two classic Polish soups. The first, Cold Beet Soup, is popular on warm days and features soured milk, young beet stems, cucumbers, thickened red beetroot juice, and lemon juice, and is seasoned with dill and chives. The second is Zurek, a hearty, sour soup typically eaten at Easter that consists of fermented rye flour, boiled pork sausage, root vegetables, spices, a boiled egg, and dried mushrooms.
Pork Cutlets with Silesian Dumplings in Red Fruit and Rosemary Sauce, the first main course, takes the region's popular breaded and fried pork chop and serves it alongside a sweet and tangy sauce made from late-summer cherries, blackcurrants, and cranberries. The second main course is Ruthenian Dumplings with Caramelized and Pickled Onion. These potato and cheese dumplings are commonly served at Christmas and are loved internationally.
For dessert, Apple Pie with Vanilla Whipped Cream highlights top Polish export products such as sweet and sour crunchy apples and high-quality dairy. The pastry features a thick layer of tender caramelized apples with a dense, cake-like crust and a crumble topping.
The menu is also served with a Dried Fruit Compote made from cooked ripe fruit, including strawberries, raspberries, and pears. The sweet drink is popular on national holidays and is widely available at school canteens as well as Polish cafeterias known as "milk bars".
The "Polish Gastronomy Week" menu will be served at the Sofitel Legend Metropole Hanoi's Le Club Bar.