Vietnamese Prime Minister starts official visit to Singapore
Prime Minister Pham Minh Chinh, his spouse, and a high-ranking Vietnamese delegation arrived in Changi Airport on February 8 afternoon, starting a three-day official visit to Singapore.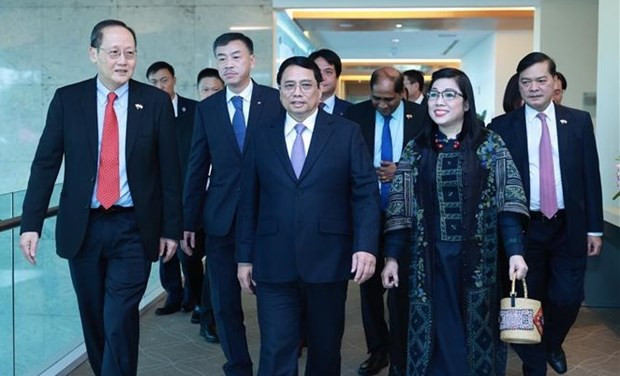 Prime Minister Pham Minh Chinh, his spouse, and a high-ranking Vietnamese delegation arrive in Changi Airport on February 8 afternoon. (Photo: VNA)
Welcoming the Vietnamese delegation at the airport included Singaporean Minister for Manpower and Second Minister for Trade and Industry Tan See Leng, Singaporean Ambassador to Vietnam Jaya Ratnam, Vietnamese Ambassador to Singapore Mai Phuoc Dung, officials from the Vietnamese Embassy and a number of overseas Vietnamese in the country.
The visit is taking place at a time when the Vietnam-Singapore strategic partnership is developing strongly and dynamically across all fields. This year, the two countries are celebrating the 50th founding anniversary of diplomatic relations and 10 years of their strategic partnership.
The two nations have regularly and effectively maintained high and all-level delegation exchanges and meetings, along with expanding defence and security cooperation. Collaboration in other areas such as education, culture, and tourism has also been bolstered through specific agreements and memoranda of understanding.
Singapore is now Vietnam's top important economic partner in the region, with two-way trade nearing 9 billion USD last year, up 10.1% year-on year. The island state leads ASEAN and ranks second among 141 countries and territories investing in Vietnam with 3,032 valid projects worth 70.39 billion USD.
At present, 12 Vietnam-Singapore Industrial Parks (VSIP) in nine Vietnamese cities and provinces have an occupancy rate of around 83.2%, attracting 17.6 billion USD for some 900 projects and generating roughly 300,000 jobs.
Vietnam and Singapore have worked closely together on regional and international matters of shared concern, including the East Sea issue, while strengthening cooperation at multilateral organisations and forums such as the United Nations (UN), the Association of Southeast Asian Nations (ASEAN) and the Asia-Pacific Economic Cooperation (APEC) forum. Together they have also worked within bilateral and multilateral free trade agreements in which both sides are joining, including the Comprehensive and Progressive Agreement for Trans-Pacific Partnership (CPTPP) and the Regional Comprehensive Economic Partnership (RCEP).
In recent high-level visits, leaders of the two nations agreed on a number of major cooperation directions, especially in new areas such as the digital economy, digital transformation, regional and global supply chain connections, the building of the green economy, sustainable development, and cooperation in the production chain.
PM Chinh's visit to Singapore aims to lift Vietnam-Singapore economic connectivity to a new height in the context that a series of new-generation free trade deals joined by the two nations have taken effect, including the CPTPP and RCEP.
As scheduled, during his stay, PM Chinh will hold talks with his Singaporean counterpart Lee Hsien Loong, and have meetings with Singaporean President Halimah Yacob, and Speaker of the Singaporean Parliament Tan Chuan-Jin.
He will also meet with representatives of the Vietnamese community in Singapore, and leading businesses of Singapore, and attend a Vietnam-Singapore Business Forum to promote bilateral trade and investment cooperation.
PM meets with representatives of Vietnamese community in Singapore
Prime Minister Pham Minh Chinh and his spouse met with the Vietnamese Embassy's staff and representatives of the Vietnamese community in Singapore on February 8 evening (local time) right after arriving in the island state for a three-day official visit.
At present, the Vietnamese community in Singapore now has over 15,000 people, including around 9,000 students, 2,000 intellectuals and 2,000 workers.
PM Chinh informed them that after 36 years of Doi moi (renewal), Vietnam's economy size has surged to over 400 billion USD from 4 billion USD. The income per capita has reached roughly 4,000 USD per year.
The Vietnamese Party and State always consider the Vietnamese community abroad, including those in Singapore, an inseparable part of the great national unity bloc and one of the driving forces and sources of strength for national development, he said.
The PM wished that the Vietnamese community in Singapore would continue abiding by law in the host country and serve as a friendship bridge between the two nations, contributing to their national development.
Representatives of the community suggested the Vietnamese Government, ministries and agencies continue popularising more images of the country to the world, particularly holding Vietnamese language courses to preserve Vietnamese culture.
They also proposed enhancing bilateral cooperation with Singapore, including in green and digital economy, as well as creating more favourable conditions for Vietnamese experts and scientists to join in innovation in the homeland.
The Vietnamese leader vowed to direct ministries and agencies to consider their suggestions.
The Vietnamese Party and State have no higher goal than firmly maintaining national independence and freedom; building a stronger and more prosperous country; and making the people more wealthy and happier, including the Vietnamese communities abroad, PM Chinh affirmed. VNA