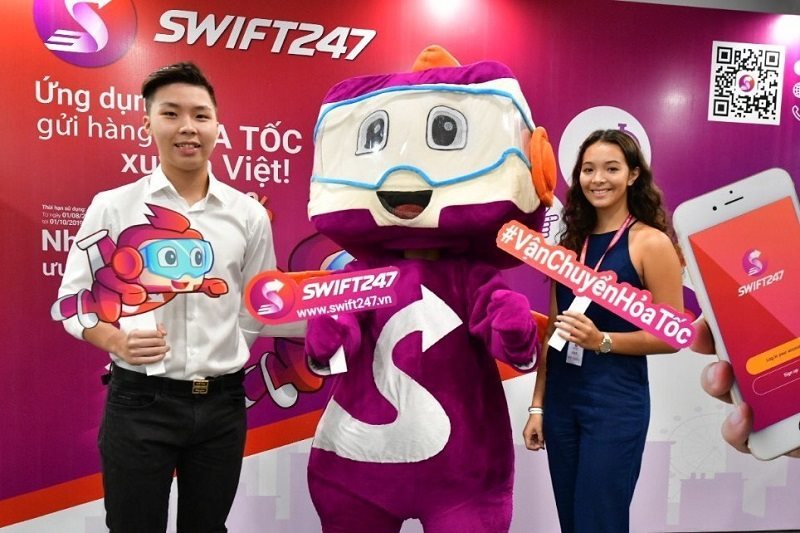 Tommy Nguyen (L), founder of super express delivery service SWIFT247.
He encountered a problem when the school asked him to supplement some documents to complete his student visa.
In such an urgent case, Tommy was not able to find an express delivery service provider that could transport his papers from Vietnam to the UK in a very short time, so he had to ask a relative to fly to the UK and give the papers to him.
This memorable experience encouraged Tommy to bring something different to the delivery service market in Vietnam.
Inspired by Prime Amazon delivery service, which can deliver goods within 29 states of the U.S. in two days free of charge, Tommy and his partners founded SWIFT247 in the context of booming e-commerce despite many logistic problems in Vietnam and Asia.
Kamille Thai, Tommy Nguyen's classmate, is in charge of marketing for SWIFT247. He is also the creator of SWIFT247's logo, brochure, advertisements, as well as a young and friendly mascot.
SWIFT247 was also co-founded by a technology startup in Vietnam. Together, they created a technology platform using information technology and automated system to provide delivery service for parcels and goods, meeting customers' need and utilizing their experience.
Imagine one day you can receive a book from Singapore to HCMC in just half a day or receive important papers within the Southeast Asian region in just 24 hours. More importantly, you can track the package's path through a mobile app. SGT

Nguyen Viet Dung, director of HCM City's Department of Science and Technology, talks about the development of start-ups in the country and HCM City.

In the absence of suitable legal framework, Vietnamese start-ups are struggling to secure much-needed capital while investment funds have difficulties navigating the country's numerous regulatory barriers, said fund managers and policy researchers.