* Bui Tan Thinh in Vi Thanh City of Hau Giang province is well known as the creator of the unique farming method in Mekong Delta.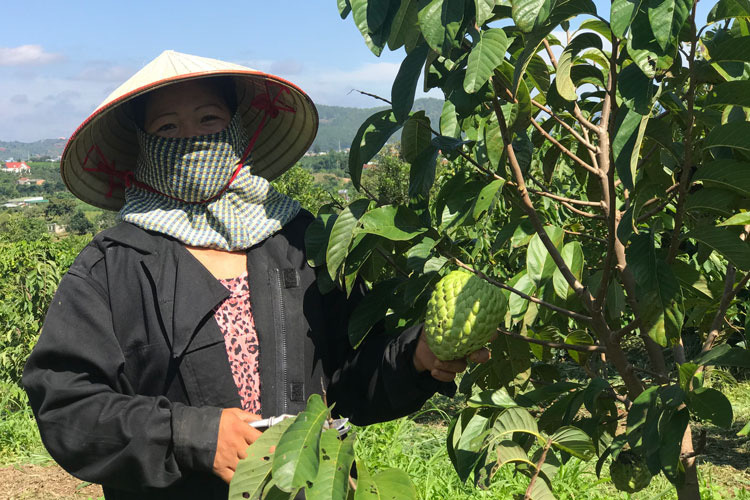 The special custard apple
Previously, Thinh bred eels in cement tanks, but the eels could not grow rapidly, while the fatality rate was high. In 2013, he decided to breed eels in plastic cans in a natural water environment.
He puts a bamboo section through a hole in the can, and puts eel breeders into the can to raise. One plastic can fits one kilogram of breeders, which can produce 15-16 kilograms of finished products and bring profit of VND2 million.
* Nguyen Van Thuc, 50, in Nam Dinh, is following an 'organic farming' method, with no weight gain products, antibiotics or industrial bran. At Thuc's farms, pigs eat ginseng and herbs, and also listen to music.

At some breeding farms in Vietnam, livestock is raised in a special way: eels are bred in plastic cans, pigs eat ginseng and listen to music, and buffaloes drink wine every morning.
Thuc takes pride in his farm, saying that his pigs only eat clean food and use traditional herbs, so the pork quality is the best. His pork is sold at prices higher by VND5-10,000 per kilogram than normal pigs.
The man can pocket VND100 million a month from 'clean pigs'.
*Hau Dinh Tuan in Thong Nong Town of Cao Bang province, said while other farmers feed buffaloes and cows with grass, bran and starch, he applies a special method to help animals grow rapidly. The buffaloes and cows drink a mug of liquor every morning.
According to Tuan, thanks to liquor, buffalos and cows eat more and quickly get fat.
With the 'technology', Tuan just needs 45 days to fatten buffaloes and cows for sale which can bring profit of VND3-4 million for each animal. Tuan can sell 4-5 buffaloes or cows each month, earning VND15-20 million.
* Ha Nhi ethnic minority are proud of their beer which has existed for hundreds of years. This kind of beer is not available at the market, because Ha Nhi only make this beer for family use. Nearly all Ha Nhi families make the beer themselves.
The beer is unlike beer distilled from barley and hops. The yeast for brewing is handcrafted from forest plant seeds, which is crushed and mixed with glutinous rice flour and brewed in straw. The longer the brew, the more delicious the beer, which turns yellow.
* Tran Ngoc Huan in Lam Dong province has 100 hectares of custard apple growing area.
The plants bloom 12 months after they are grown, and the fruit is 2-3 ttimes bigger than normal custard apple. It is delicious, sweet and has few pips. With 100 plants on 2,000 square meters, Huan can earn VND50 million.
* Dinh Van Dan, born in 1950, is dubbed the 'antique King' in Ninh Binh. He has collected thousands of antiques over the last 40 years. His collection has very precious items. His fortune is estimated to have the value of VND100 billion. 
Hanh Nguyen

Despite hardships along the way, perseverance has brought young man success in developing a high-tech farming project in his hometown in Binh Dinh Province.

Drip irrigation – an effective Israeli invention that helps save water significantly – could be applied in Vietnam, particularly when part of Vietnam was heavily hit by droughts and saline intrusion, Israel's agriculture expert said. A