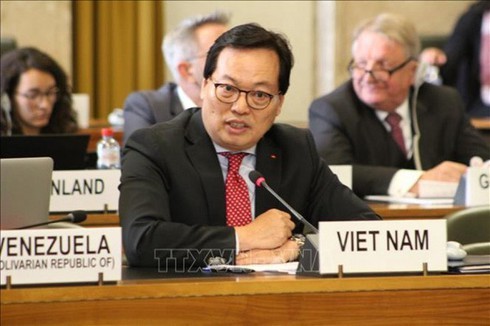 Ambassador Duong Chi Dung, Head of the Vietnamese Permanent Delegation to the UN in Geneva, attends the 40th meeting of the UN Human Rights  Council in March, 2019.

The country has struggled to defend national independence and reunification to ensure that all Vietnamese can fully enjoy human rights, including the right to live in peace, independence, and freedom, and to decide their own faith and growth.
The world will celebrate the 71st anniversary of the UN General Assembly's adoption of the Universal Declaration of Human Rights on December 10. The Declaration presented the international community's common values of human rights and laid a foundation for other human rights covenants, including the Covenant on Civil and Political Rights, the Covenant on Economical, Social, and Cultural Rights, and covenants on the rights of children, women, and persons with disabilities.
Since the war, Vietnam has made every effort to build a socialist state governed by law, a state of the people, by the people, and for the people, and improve its laws on human rights.
Effort to promote human rights of all people
Vietnam's 2013 Constitution has a chapter on Human Rights and Rights and Obligations of Citizens. Since 2013 90 legal documents relating to human rights have been issued to guide enforcement. Vietnam has fine-tuned regulations and built mechanisms to guarantee human rights. All socio-economic development strategies and projects have taken into consideration a people-centered orientation.
Vietnam has ensured human rights in economic, social, cultural, civil, and political fields. Vietnam achieved many UN Millennium Development Goals ahead of schedule and is effectively carrying on with Sustainable Development Goals. An economic growth rate of over 6% has been maintained for many years, while other socio-economic efforts have recorded positive results.
The household poverty rate was lowered to 5.35 percent by the end of last year. Education, healthcare, and housing have improved. All 63 provinces now have universal nursery and primary education. Gender equality has made rapid progress.
The percentage of female deputies in the National Assembly and People's Councils at all levels is 27%, a fairly high rate compared with other regional countries. Freedom of religion and belief is practiced, with thousands of religious festivals held every year. Vietnam has approximately 50 million internet users, one of the highest numbers of internet users in the world.
Contributions to universal values of human rights
Vietnam has actively contributed to human rights and human advancement. Vietnam has proposed initiatives at human rights forums of the UN, ASEAN, and other groups, particularly relating to women, children, persons with disabilities, and climate change vulnerable communities. The UN Human Rights Council adopted Vietnam-proposed resolutions on the impacts of climate change on children and women in 2016 and 2018.
Vietnam has abided by international covenants on human rights, including the UN's Universal Periodic Review. Vietnam submitted the third-cycle UPR national report and held a dialogue with other UN members in January, 2019. The national report outlined Vietnam's law revisions, human rights achievements, and implementation of the UN's recommendations on human rights.
Vietnam has pursued administrative reform, improved public services, fought corruption, promoted democracy, and strengthened the capacity of the State apparatus. Vietnam has pledged to quickly implement SDGs, reduce poverty, and narrow development gaps between communities.
To mark Human Rights Day, Vietnam promised to continue to support dialogue and cooperation and work with other countries to promote human rights. VOV5