VCCI (Vietnam Chamber of Commerce and Industry) chair Vu Tien Loc, speaking at a workshop on improving national competitive capacity in late March, commented that Vietnam's productivity lags far behind other countries. It is, for instance, just 7.2 percent of Singapore's.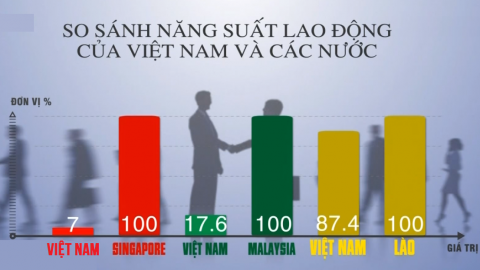 Vietnam's productivity is still low compared with other regional countries
Nguyen Duc Thanh from the Hanoi National University said Vietnam's productivity has increased modestly by 3 times over the last 25 years, which is a hindrance to growth and competitive capability.
A problem, which is 'serious' and 'stinging', as described by Thanh, is the low-cost labor force, which still accounts for a large proportion, mostly in rural areas. Many of them can't move to fields with higher productivity.
Statistics all show that the productivity of state-owned enterprises is much higher than that of the private sector. However, the high productivity is obtained not because of the enterprises' high business efficiency, but because of preferences in capital, technology and market monopoly.
At a ceremony on launching the 2018 annual economic report, VEPR pointed out that the minimum wage is increasing more rapidly than productivity.
Vietnam's productivity per head is even lower than that of Cambodia, and the gap between Vietnam and Singapore is widening.
The wage increase was 6.7 percent on average, while productivity was by 5 percent only in 2004-2015.
Explaining this, Mac Van Tien from MOLISA (Ministry of Labor, War Invalids and Social Affairs) said Vietnam's minimum wage is low, so is necessary to raise the wage in the context of inflation.
This is abnormal, because only when productivity increases will production generate more assets, help reduce production cost, reduce number of workers, and contribute more to the wage fund.
If productivity or income do not increase, but Vietnam still has to raise wages, it will eat into the accumulation fund, and there won't be resources for investment and development.
Vietnam's productivity per head is even lower than that of Cambodia, and the gap between Vietnam and Singapore is widening.
"If Vietnam cannot escape the vicious circle of 'wage reform – productivity increase', once Vietnam takes one step forward, the world will take three steps forward, and Vietnam's 3-4 percent productivity increase won't help it catch up with Singapore, which increases only by 1 percent," said Mac Van Tien, a respected economist.
Bui Trinh, also an economist, when asked about the solutions to improve productivity, said if Vietnam remains an outsourcing economy, it will not be able to increase productivity significantly.
In the textile and garment industry, Vietnam now can make fabric, but design, which brings the highest value in the production chain, is still undertaken by foreigners.

The productivity and competitiveness of Vietnamese enterprises remain low, according to a report publicized on April 26 by the Vietnam Academy of Social Sciences (VASS), the Ministry of Planning and Investment nd the UNDP.  

Vietnam's manufacturing labor productivity remains around a quarter of China's and Malaysia's, one third of Indonesia's and the Philippines', a half of India's and Thailand's, and just around 7% of Japan's and South Korea's.
Ha Dung