Village of photography

Memories are kept alive thanks to generations of photographers in Lai Xa Village, 15km west of Hanoi.
Established in 2017, Lai Xa Photography Museum is one of the first museums to feature a village's traditional trade. The museum features 150 pictures, 25 articles and 15 display cases, containing over 100 artefacts, including machinery and equipment once used by the village photographers. The first floor of the museum contains a memory wall of Lai Xa's martyrs who lost their lives during the war.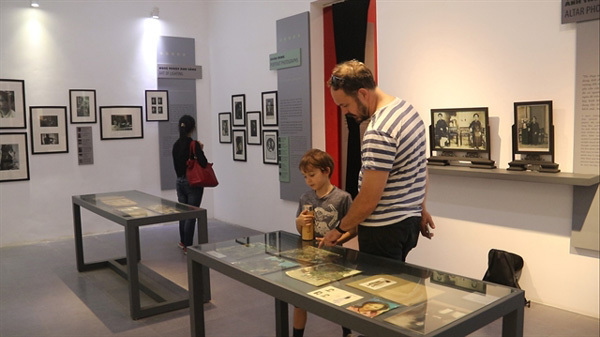 Kim Beamish and his son visit Lai Xa's Photography Museum. VNS Photos Ly Ngoc Tram

Nguyen Van Thang, director of the Museum, warmly welcomed visitors from Friends of Vietnam Heritage (FVH) on a Sunday afternoon. He shared his stories about the history and the rise and fall of Lai Xa photography.
127 years of 'capturing time'
The father of Lai Xa's photography village is Nguyen Dinh Khanh.
Born in 1874, he opened the first photography shop named Khanh Ky in 1892 on Hang Da Street, Hanoi. He returned to the village to teach others photography and soon they started opening their own photography shops. They often included names like "Ký" or "Lai", such as: An Ký, Thịnh Ký, Thiện Ký, Phúc Lai, Kim Lai, etc, to their shop names.
"At its peak, photographers in Hanoi accounted for 70 per cent of Lai Xa's population," Thang said.
"At that time, photos were luxury items, so only high-class families or those with fairly good incomes could afford them," he recalled.
During the time before the August 1945 Revolution, many photographers from Lai Xa participated in revolutionary activities, as they attracted less suspicion.
"Even Khanh joined the Tonkin Free School, and when his position was revealed, he fled to France and joined the Society of Vietnamese Patriots with prominent figures such as Phan Chu Trinh. When President Ho Chi Minh (then Nguyen Ai Quoc) came to France, it was Khanh who taught him photography and helped him financially," Thang said.
The photography trade helped change Lai Xa Villagers' lives for the better.
"Lai Xa was an agricultural village, but after Nguyen Dinh Khanh introduced photography, people were able to buy cattle and build brick houses, improving their lives immensely."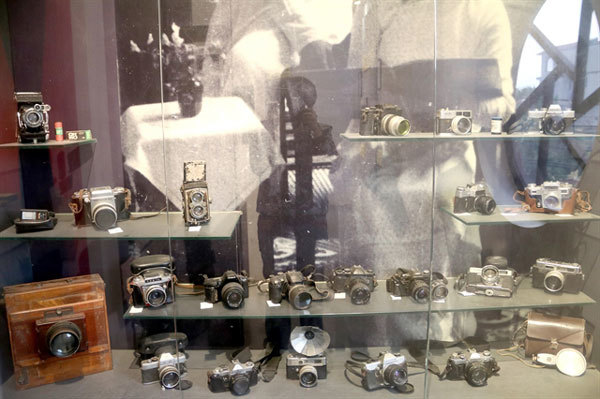 A case displaying cameras at Lai Xa Photography Museum.

The key of 'timing'
A fourth generation photographer of Lai Xa, Pham Van Hung, who owns the Manh Hung studio, said that the key to a good photo is timing and light.
"When I opened my studio, I had to research the angles and light in the studio in order to take clear and beautiful photos," he said.
"It is all about timing. When I'm directing people for a picture I ask them to smile, but I have to time when their facial muscles are relaxed to take the shot, then the photo is the most beautiful."
Hung also shares his secret of how to fix photos when things are not going well.
"If the photograph taken is good then it is fine, but if there is a problem, we have to know how to make changes by using chemicals, papers, etc."
"We call it an 'illness'. Every photographer wants a good photo, but if the temperature isn't right on the day, it can cause the picture to be blurry or lose contrast, so we have to use chemicals to fix it," he added.
Next to the camera and experiences, Lai Xa photographers also have fond memories of their peers. Dinh Tien Ngoc remembered the help he often received from other villagers.
"There is a good thing about being in Lai Xa because we can borrow each other's equipment. For example, if I don't have a camera, I can just borrow one from a friend."
"If I don't have a light or lens, people are willing to lend me theirs. The people here are honest like that," Ngoc said.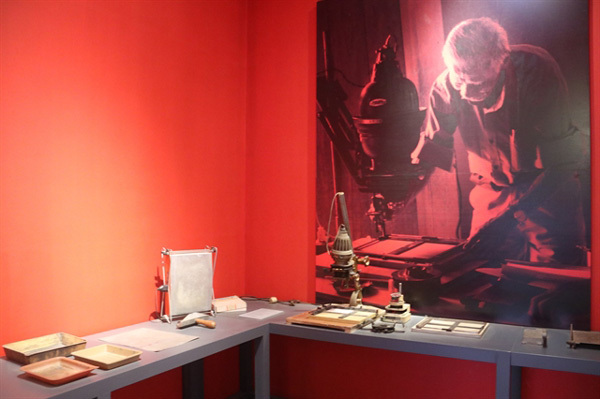 Picture illustrates Pham Thanh, a photographer from Lai Xa, processing film.

Worries for future generations
As the photography industry develops, and automated devices like mobile phones and digital cameras replace film, many Lai Xa photographers are hesitant about letting their children follow in their path.
"Some people still continue, but many of us are farmers, not businesspeople, so it is difficult for us to follow the changes," Ngoc said.
Hung also doesn't want his children to take up the job, as there is not much room for traditional photography nowadays.
"None of my children are taking up photography because if they do they will not be able to find jobs."
"There won't be many photographers of the fifth generation because the only photo shops that exist nowadays are those that do ID photos," Hung said. - VNS
by Ly Ngoc Tram

Lai Xa Village is considered the birthplace of Vietnamese photography. Though times are changing, visitors can still get a picture of the past at Lai Xa's photography museum.

The Friends of Vietnam Heritage (FVH) group will organise an excursion to Lai Xa photography village on November 24.