VN auto manufacturers hit hard for last two years
The Vietnamese auto market prospered for a few years before being affected by the Covid-19 pandemic, but sales of locally assembled cars have fallen.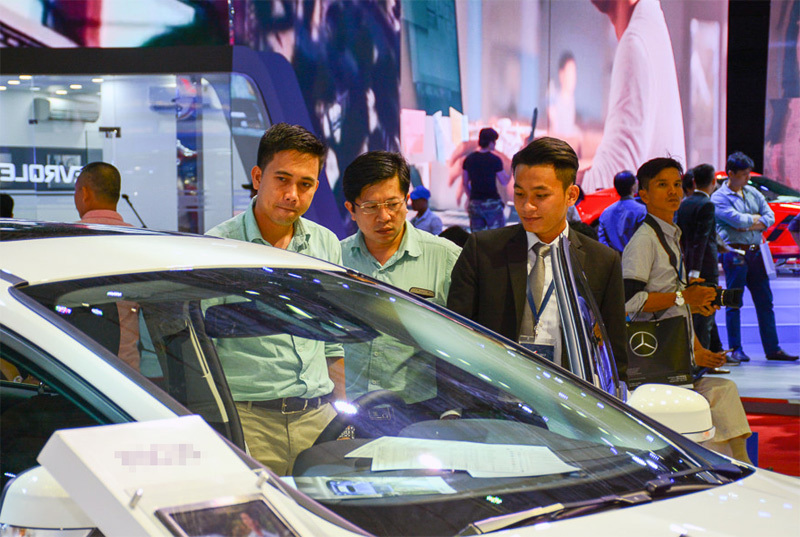 Car sales dropped sharply due to the impact of the Covid-19 epidemic.
According to the Vietnam Association of Automobile Manufacturers (VAMA), sales in April 2021 of VAMA members reached 30,065 vehicles, down 3% compared to March 2021.
A similar decline was also recorded for non-VAMA member -TC Motor, with only 6,538 Hyundai cars of all kinds sold, down 4% compared to March 2021.
Businesses said that in May 2021, car sales will continue to decrease compared to April. Mr. Le Ngoc Duc, General Director of TC Motor, said that sales in May would decrease by about 20% compared to the previous month and the picture of the auto market will be bright from now until the end of the year.
Some auto manufacturers made even less optimistic forecasts, with sales of cars dropping by as much as 50% in May 2021. The reason is the outbreak of Covid-19 and a sharp drop in demand for cars. Car sales in May 2021 may be on par with May 2020. At the same time, car inventories began to increase again.
According to VAMA, sales of domestically assembled cars in April 2021 decreased by 1% compared to March 2021 and it was 4% for TC Motor. Businesses said that sales of domestically assembled cars in May 2021 also decreased compared to April 2021. If sales decrease, output will also decrease, which will affect Vietnam's auto industry.
The most important pillar of Vietnam's automobile industry at present is the B-class sedan segment, with 3 main models: Hyundai Accent, Toyota Vios and Honda City. The sales of these models have long been the highest in the market, with more than 60,000 units in 2020, an increase of nearly 10%. The two models with the highest sales volume are Vios with 30,000 units and Hyundai Accent with nearly 21,000 units in 2020. These are the two models with the best conditions to promote localization and contribute for the local automotive industry.
According to car manufacturers, many people who have the need to buy cars will be limited in financial capacity amid the pandemic. Not many will choose cars with a selling price of VND700 million or more. So they will focus on buying cars priced from VND600 million or less. The B-class sedans have an advantage.
That is why in 2020, the Vietnamese auto market faced difficulties but the B-class sedan segment still had impressive growth.
However, since the beginning of 2021, this segment has been changing. Only Hyundai Accent has maintained stable sales, while the sales of Toyota Vios and Honda City have declined. Notably, Toyota Vios in previous years always led the market with about 2,700-3,000 units sold per month, but since the beginning of 2021, the sales of this model have dropped sharply, to under 2,000 cars per month.
According to car manufacturers, in 2020, despite great difficulties, the B-class sedan segment maintained a high growth rate, as there was a reduction of 50% of the registration fee.
In 2021, this support is no longer available, so auto sales are falling. If this continues, Vietnam's auto industry may lag behind compared to previous years.
According to VAMA, sales of domestically assembled cars in 2020 decreased by 1% compared to 2019, despite the policy of 50% of registration fee slashed in the second half of the year.
Meanwhile, preferential policies for domestically manufactured and assembled cars are not strong enough. The output therefore is low, and enterprises have had difficulty in improving the localization rate. Domestic cars are increasingly disadvantaged compared to imported cars.
The auto industry is a spearhead industry, contributing greatly to the GDP of many countries in the world, specifically accounting for 3.25% of the US' GDP, 5% of China's GDP, 4% of Germany's GDP and 12% of Thailand's GDP. It creates many jobs, so it should always receive special attention from the Government.
The scale of Vietnam's automobile market is currently very small, making it unattractive for businesses to invest in manufacturing components and spare parts. The number of spare parts and components sold annually must reach about 50,000 sets to be feasible for investment. That means the output of a car model must reach 50,000 units a year.
The model with the largest output in Vietnam in 2020 is the Toyota Vios, which reached 30,000 units, but this year's sales are decreasing.
Vietnam's auto industry basically stops at the assembly stage. Faced with the pandemic, difficulties have piled up again. Businesses believe that it is necessary to have long-term supportive policies and incentives to help the auto industry develop.
Tran Thuy

Current policies have not been attractive enough to persuade investors to pour money into support industries for the automobile industry.

After 25 years of development, the automobile industry has failed to reach its localization ratio goal, while cars in Vietnam are more expensive than other regional countries.