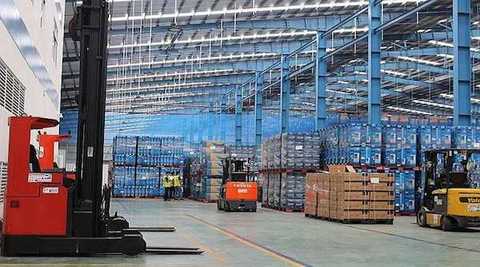 Businesses are facing a lack of empty containers as Vietnamese exports boom and run up a big export surplus. – Photo cafef.vn
Besides, international shippers were hiking their fees, and Vietnamese businesses would struggle to cope if the problem is not addressed, he added.
Nguyen Dinh Tung, chairman and general director of fruit exporter Vina T&T Group, said there was a lack of containers for shipping dry goods while the cost of shipping goods to the US had increased by nearly three times from last year.
Dang Phuc Nguyen, general secretary of the Viet Nam Fruit and Vegetable Association, explained lack of containers by saying exports were booming at the end of the year and Viet Nam had been seeing big export surpluses through the year.
Ship crews had to be in quarantined after reaching foreign ports due to the pandemic, which exacerbates the container shortage, he said.
Le Kim Cuong, deputy director of Sai Gon New Port Logistics, said the recent storms that hit the country were making it difficult to transport empty containers from foreign countries back to Viet Nam.
HCM City, Dong Nai and Binh Duong's ability to receive empty containers from deep-water ports and transfer them to inland container ports was limited, he added.
Phan Van Co, marketing director at VRICE Limited Co., said businesses were incurring more expenses since their goods have to be stored longer at ports as they wait for containers.
The Viet Nam Logistics Association said depots should be tasked with repairing empty containers to reduce the waiting time for them, and ships should work closer with depots and accurately notify their empty containers situation.
Consignors needed to make use of containers efficiently and quickly so that they could be used by others, it said.
Rewards and penalties for quick and tardy returns of empty containers should also be considered, it added. – VNS

Vietnamese businesses should prepare to export their products to other ASEAN countries ahead of the possible signing of the Regional Comprehensive Economic Partnership (RCEP) this week.