VN lacks teachers, has redundant pedagogical bachelors
VietNamNet Bridge – The Ministry of Education and Training's report that Vietnam lacks 27,000 teachers is believed not to truly reflect the real situation.
VietNamNet Bridge – The Ministry of Education and Training's report that Vietnam lacks 27,000 teachers is believed not to truly reflect the real situation.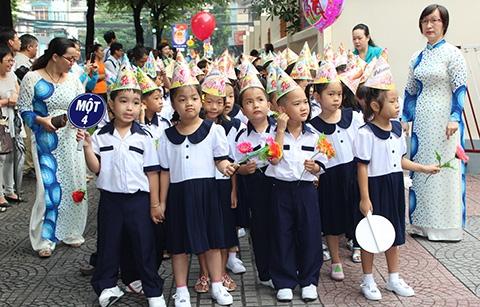 Pedagogical school bachelors … cut grass
Hoang Duc Minh, a senior official of the education ministry, affirmed at a press conference on the occasion of the new academic year opening in late August that Vietnam lacks 27,554 teachers nationwide. The most serious shortage can be seen in the provinces of Nghe An, Thai Binh, Thanh Hoa and Bac Giang.
As soon as the report was released, thousands of people expressed their disagreement with the MOET, affirming that teachers have been in "superabundance." Many of them are from Thanh Hoa and Nghe An, the localities which MOET says seriously lack teachers.
"Is the MOET sure that 27,000 teachers are lacking?" wrote Trinh Thanh from Dong Thap province.
Thanh said that the province has been "abundant in pedagogical bachelors." "A lot of education school graduates have been staying redundant. Those, who want to get a job, need to pay VND20 million to get in through the back door," she wrote.
Other young people have agreed with Thanh, saying that in their localities, pedagogical bachelors do not go to school to teach students, but to the rice fields to cut grass.
However, they disagreed with Thanh that one needs to have VND20 million in an under-the-table fee to get a teaching job. "You have to pay VND150 million, if you are in the north, and VND100 million if you are in the south. VND20 million will make nothing," said Nguyen Lam from Quang Binh province.
In principle, the local education department recruits new teachers for schools every year. However, only several seats are offered each year, while there are thousands of applications.
According to Nguyen Van Men, who finished the HCM City University of Education, the majority of education school graduates have been unemployed over the last 10 years, or have to take the jobs in untrained majors.
"Of the 85 graduates of our class last summer, only 25 have found jobs," Men said.
Schools cry about teacher shortage
Minh himself admitted that the deficiency and abundance of teachers exist at the same time.
The schools in HCM City now still need 1,200 teachers more, while Nghe An, Thanh Hoa and Bac Giang lack some 1,000 teachers.
The localities which report teacher shortage are the ones which implement the program on education generalization for 5-year-old children. Under the program, all the students at the age need to go to kindergartens. Meanwhile, primary school students are now required to have 2 sessions a day instead of one, which has led to the higher demand for teachers.
Minh also said that teachers are abundant in some teaching subjects due to the oversupply, but are short in other subjects.
However, people believe that pedagogical school graduates cannot find jobs just because they were trained in the majors not demanded by schools, but because they don't pay the underground money to the employers.
A VietNamNet's reader called the editorial board and said that a relative of his had to pay VND70 million to get a job in a remote underdeveloped district, which has just got electricity from the national grid.
Nguyen Thao