VietNamNet Bridge - The authorities have admitted that they do not have accurate data on the volume of illegally-exported ore via the border.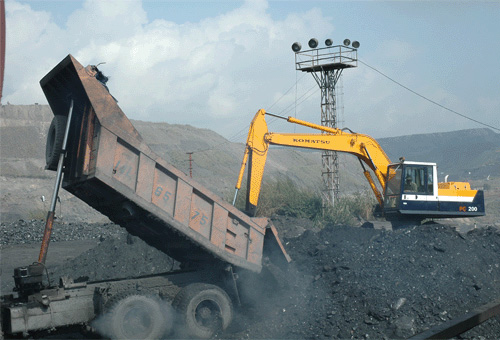 Coal mining in Quang Ninh.
Mr. Nguyen Manh Quan, Head of the Department of Heavy Industry of the Ministry of Industry and Trade, said due to the complex nature, it is difficult to obtain accurate data on illegal export of minerals.
"Smugglers have sophisticated tricks. In many border areas, the poor get ore trading as their livelihoods. Ore trading across the border is easy because foreign traders are ready to buy any kind of ore. We only know the illegally-traded ore volume which was seized by the authorities," said Quan.
In fact, not only people smuggle ores, but also mining companies. Quan said an official of a mineral mining firm told him that the policy of banning export of minerals is correct but some mining companies could not find the outlet, so they had to illegally export minerals.
Advocating for the reason to "illegally export minerals is caused by policies," Mr. Nguyen Minh Ngoc, General Director of the Development Company No. 1 (based in Hai Duong city) said the export tax rate of 40 percent is too high, but mining firms still have to accept it to export minerals. The biggest difficulty of mining enterprises is unable to find domestic outlets.
Other mining companies and the Departments of Trade and Industry of several provinces also expressed their wish "to continue iron ore exports" although they complained of high export taxes.
As the only company buying large volumes of ore at present, a representative of Hoa Phat Group said since 2008, the company has purchased ores of domestic mining firms, with about 60,000 to 70,000 tons of ore each month. To prepare for the operation of the second blast furnace, the company will need up to 150,000 tons of ore per month.
The Hoa Phat representative said the firm buys ore based on the price in Fangchenggang (China) plus expenses for related conditions, but many local mining firms do not want to sell ores to Hoa Phat.
The Hoa Phat representative also named the firms that are only interested in export, such as the Development Company No. 1 and Duong Hieu Company.
Mr. Mai Van Ha, Director of Hoa Phat Steel Company, a subsidiary of Hoa Phat Group, said some mining firms showed off their contracts with Hoa Phat when their ore trucks were inspected by the authorities, but the shipment was not transported to Hoa Phat.
Mr. Pham Chi Cuong, Chairman of the Vietnam Steel Association, said Hoa Phat is a listed company so its purchase of ores must have vouchers, while many mining enterprises do not have the invoices. Some mining companies have admitted their linkage with watchdog agencies to avoid taxes.
This fact shows that the doubt about tax losses worth of hundreds of millions of USD has certain grounds.
Dau Tu