VN President leaves for State visits to Tanzania, Mozambique, Iran
President Truong Tan Sang left Hanoi on March 8, heading to Tanzania, Mozambique and Iran for State visits from March 9-15.
President Truong Tan Sang left Hanoi on March 8, heading to Tanzania, Mozambique and Iran for State visits from March 9-15.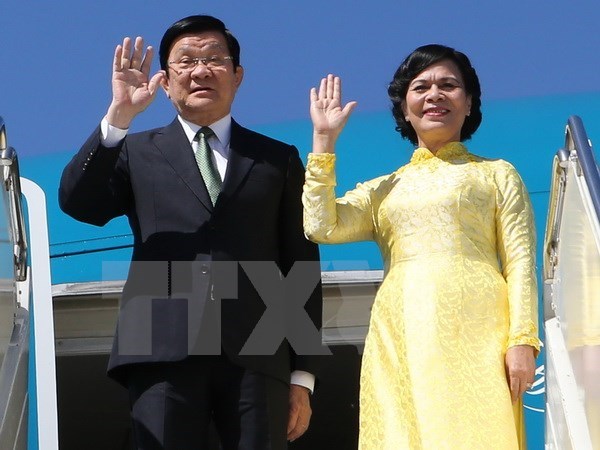 President Truong Tan Sang and his wife.
The visits are made at the invitations of Tanzanian President John Magufuli, Mozambican President Filipe Jacinto Nyusi and Iranian President Hassan Rouhani.
Accompanying the State leader are several ministers and leaders of the State Bank of Vietnam and the Vietnam Chamber of Commerce and Industry.
Vietnam and Tanzania set up their diplomatic ties on February 14, 1965 and many high-level leaders of Tanzania have since made visits to Vietnam.
The East African country has supported Vietnam during its past struggle for national liberation and current nation-building cause. It also backed Vietnam's bid to join the World Trade Organisation and become a non-permanent member in the UN Security Council in 2008-09 tenure, a member of the UN Human Rights Council in 2014-16, the UNESCO Executive Board for 2015-19, and the UN Economic and Social Council for 2016-18.
Tanzania has recognised Vietnam as a market economy.
Bilateral economic cooperation has seen positive development. Two-way trade increased from 156 million USD in 2014 to 204 million USD in 2015. The military-run telecommunication group Viettel is running a joint venture in Tanzania with a total investment of over 700 million USD.
The two countries have signed a number of cooperation agreements, including a trade agreement in 2001, a memorandum of understanding on an agricultural cooperation programme in 2002, and an agreement on economic, trade, scientific and technological cooperation. An inter-governmental committee has been set up with the first meeting held in December 2014.
Meanwhile, Vietnam set up its diplomatic ties with Mozambique on June 25, 1975 and the two countries have maintained close friendship. Most recently, Party General Secretary Nong Duc Manh paid a visit to Mozambique in 2008 and Mozambican Prime Minister Aires Ali came to Vietnam in 2010.
Last year, two-way trade reached 66.1 million USD, of which 59.6 million USD came from Vietnam's exports. At present, Viettel and Hapro (Hanoi Trade Corporation) are investing in Mozambique in the fields of telecoms and trade.
The two countries have conducted many cooperation projects in agriculture and fisheries, and signed numerous agreements in other fields, such as a framework agreement on economic, cultural, scientific and technological cooperation and a trade agreement in 2003, an agreement on investment encouragement and protection in 2007, among others. In 2014, the two governments reached another agreement on joint research into food crop development in Mozambique for 2013-2017.
Vietnam and Iran established their diplomatic ties on August 4, 1973. Since then, they have organised six political consultations and eight inter-governmental committee meetings.
Bilateral trade turnover hit 106.7 million USD last year, of which Vietnam's exports were valued at 77.2 million USD.
The two countries have also held various senior delegation exchanges, including Iran visits by President Le Duc Anh in 1994, President Tran Duc Luong in 2002, National Assembly Chairman Nong Duc Manh in 1999 and Deputy Prime Minister Nguyen Xuan Phuc in 2014.
On the Iranian side, President A. Rafsanjani visited Vietnam in 1995, Chairman of the National Consultative Assembly Akbar Nategh in 1998 and President Mahmoud Ahmadinejad visited in 2012.
VNA