VN publishing industry suffering losses because of pirated ebooks
Pirated ebooks are causing the publishing industry in Vietnam to "live in fear".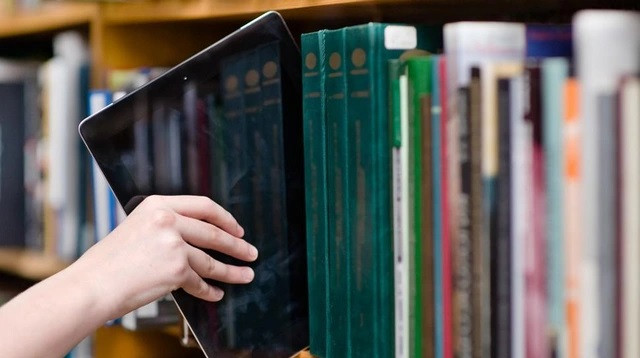 A day after Dan Brown's popular novel "The Lost Symbol" was released in Vietnam, promising to bring in explosive sales, an electronic version of this novel appeared on the Internet, allowing people to download it for free.
In just a few days, the book's downloads reached over 100,000. Also in a short time, the content of the best-selling book "How much is youth worth?" released by Nha Nam was distributed online and quickly received more than 400,000 views. Those are just two of the many cases of pirated ebooks causing great damage to publishers.
According to the latest report of the Ministry of Information and Communications, in the first half of 2022, the publishing industry earned revenue of VND 1,610 billion, 91.6% of the same period in 2021.
Experts and insiders at a recent workshop on 10-year implementation of the Law on Publishing 2012, said that piracy and pirated ebooks are the culprits causing the publishing industry's decline.
Ms. Dinh Thi Thanh Thuy, Director and Editor-in-Chief of the General Publishing House of Ho Chi Minh City, said that widespread piracy and pirated ebooks causes great losses for Vietnamese publishers while the sanctioning mechanism is still lax.
"Pirated ebooks affect the approach to official book sources, and harm the protection of copyrights and copyrights of authors and translators, thereby causing losses of revenue for publishers who have invested heavily in this field," said a representative of the Ho Chi Minh City General Publishing House.
From another angle, the author's copyright awareness is giving a hand to this problem. Mr. Le Thanh Ha, Director of the Publishing House of Ho Chi Minh City University of Pedagogy, said that awareness of copyright in Vietnam is very low. Even many authors have not been able to distinguish right and wrong about copyright issues. When seeing their books illegally posted online in the form of pirated ebooks and audio books, some authors, instead of being upset, are happy because their books can reach many more people.
Mr. Le Lan, Director of the Agriculture Publishing House, said that there are no specific statistics on the damage caused by pirated ebooks to local authors, translators and publishers. "But it's certainly a huge number," he said.
"Pirated books, regardless of the form, have become a burning problem for publishers. Today, a site of pirated books is closed down but tomorrow, another site will be launched. If this problem is not completely handled, pirated ebooks can cause serious damage to the electronic publishing industry," said Mr. Lan.
A publishing house in Vietnam once slashed the price of its ebooks to VND5,000-10,000/copy, even VND1,000/copy, to compete with pirated ebooks.
Dr. Dang Thanh Le, Director of the Institute of Administrative Sciences (National Academy of Public Administration), suggested that the Department of Publication, Printing and Distribution should study and propose amendments and supplements to sanctions and penalties for regulations on administrative violations in the field of journalism, publishing in general and ebooks in particular to strengthen deterrence against violations.
This agency should also strengthen coordination with related agencies to inspect, prevent and combat illegal printing and illegal publishing of ebooks.
The relevant agencies should also speed up the process of investigation, prosecution, and timely trial of crimes in the field of publishing and piracy with adequate punishments, and should thoroughly use administrative, economic and criminal measures to handle violations.
From a technology perspective, Mr. Nguyen Ngoc Han, General Director of the Capital Information Multimedia Joint Stock Company, said there is a solution to help publishers proactively protect themselves against ebook piracy. It is the Sigma Multi-DRM digital content copyright protection solution.
This application can replace the inherently passive and ineffective copyright control from the digital content owner itself and puts the digital content under the control of a computer program.
Accordingly, the e-book library server encrypts the content, and restricts the access, copying, and printing of documents based on constraints set by the content's copyright holder.
From the perspective of state management, Mr. Nguyen Nguyen, Director of the Department of Publication, Printing and Distribution, Vice Chairman of the Vietnam Publishing Association, said that in order to have better copyright protection measures, his agency will establish a Book Copyright Protection Center. This center will have the function of connecting with other copyright centers and offer support to help publishers buy foreign copyrights.
Dau Tu