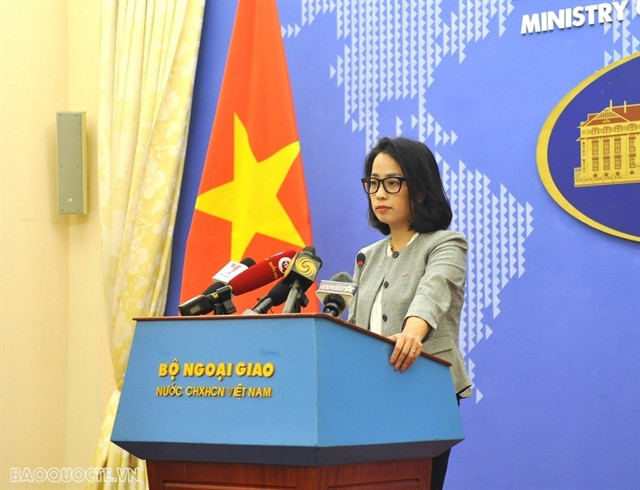 Deputy spokesperson for the Ministry of Foreign Affairs Phạm Thu Hằng addresses reporters' questions on Thursday during the regular press brieifng in Hà Nội. — Photo from the Ministry of Foreign Affairs
The annual report, compiled by the US Department of State, has accused a number of countries, including Việt Nam, of serious human rights violations.
Việt Nam's consistent policy is to protect and promote human rights, Phạm Thu Hằng, the deputy spokesperson for the Ministry of Foreign Affairs of Việt Nam, said at the regular press briefing held in Hà Nội on Thursday.
"Việt Nam always places the people at the centre of and inspiration for national reforms and development process. Việt Nam has made great efforts to improve the people's lives and rights to enjoy life with no one left behind," Hằng noted.
"Fundamental human rights and freedoms are recognised in the Constitution of Việt Nam, protected and promoted by concrete legal documents and implemented in reality," she said.
Việt Nam feels "sorry" that the 2022 Human Rights Report has made some biased comments based on false information about the real situation in Việt Nam, according to the deputy spokesperson.
Hằng commented Việt Nam is always willing to have friendly, open, and constructive talks on matters where the two countries have different views in order to increase mutual understanding and contribute to the development of the bilateral comprehensive partnership.
In response to a different question about whether Việt Nam and the US would upgrade ties to a strategic comprehensive partnership this year or next, the deputy spokesperson has spoken at length about the positive developments in bilateral ties.
"After 10 years of comprehensive partnership, the relations between Việt Nam and the US have been deepened and growing increasingly substantial at the bilateral, regional, and global scale," she noted.
The two countries have maintained contact dialogues and exchange of visits between different departments and different levels, especially the high level.
"You may notice that in the joint statements and context between senior leaders, both sides agreed to observe the United Nations Charter and international law and respect each other's independence, sovereignty, territorial integrity, and political systems. And the United States has many times affirmed that it supports a strong, independent and prosperous Việt Nam," Hằng told reporters.
Economic trade and investment cooperation has been a highlight in the bilateral ties as last year's trade value hit US$123 billion, up four times from 2013.
For the first time, Việt Nam's exports to the US market exceeded $100 billion dollars, and Việt Nam became the US' eighth largest trading partner last year, Hằng said.
US FDI to Việt Nam reached $11.4 billion, ranking eleventh among FDI investors in Việt Nam.
Recently, a large business delegation from the US that comprises notable companies like Pfizer, SpaceX, Netflix, Boeing, etc. has been visiting Việt Nam to seek investment opportunities.
Apart from economic trade and investment cooperation, Việt Nam-US bilateral cooperation in other fields has also seen positive growth, especially in COVID-19 response and recovery, science and technology, education and environment, according to deputy spokesperson Hằng.
The US continues to cooperate in Việt Nam in various fields such as dealing with war remnants, enhancement in maritime law enforcement, and participation in UN peacekeeping operations.
Hằng said the two countries are also cooperating very effectively with each other within multilateral frameworks such as ASEAN, UN, the Mekong sub-region cooperation, among others, especially in the settlement of regional and global issues of mutual concern, including sustainable development and climate change response.
"With all these points I have just made, Việt Nam really wish to continue to work with US President Joe Biden's administration in order to continue to deepen the bilateral relationship for a further sustainable, substantive and long-term partnership, towards an upgraded partnership when the time is right in contribution to peace, stability, cooperation, and development in the region and the world," the diplomat concluded.
FBI's wanted notice
With regards to the US FBI's wanted notice for a Vietnamese national from Quảng Bình Province for alleged money laundering in relation to the $3-billion darknet cryptocurrency mixing service ChipMixer, deputy spokesperson Phạm Thu Hằng said Việt Nam's authorities are working on verifying and investigating the case.
"I wish to take this opportunity to affirm Việt Nam is a responsible country in fighting and managing harmful cybercrimes and transnational crimes," Hằng said.
Actions that use cyberspace to infringe legal rights and interests of agencies, organisations and individuals shall be investigated and dealt with in accordance with the law, the spokesperson said. — VNS