VN textile and garment industry may fail to reach $40 billion target

The target of exporting $40 billion worth of textiles and garments this year may be unattainable.
"In Vietnam, there are about 100 spinning factories operating, but most of them are facing a difficult situation," said Luong Vu Ngoc Duy, Director of Zara Textile.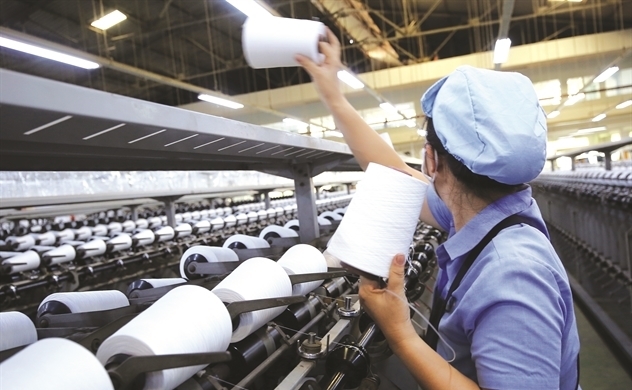 The company, located in Dong Nai province, is operating at a moderate level in hopes that new policies will help escape the situation.

By mid-2018, enterprises had enough orders for 2018. But things are different in 2019. Enterprises can only take small orders and sign contracts every month.

Explaining this, the Ministry of Industry and Trade (MOIT) said buyers fear the US-China trade war would escalate, so they tend to place small orders instead of big ones.

The target of exporting $40 billion worth of textiles and garments this year may be unattainable.
Duy from Zara also said the orders this year are for shorter terms. The company even has to accept short 1-month orders.
Zara now exports products to Japan, South Korea and China, of which China is the largest market. Duy said the orders from China are enough for the factory's capacity, while there are not many orders from Japan and South Korea.

In the past, Vietnam produced 2.2 million tons of yarn a year and exported 1.5 million tons, 60 percent of which to China. However, problems have arisen since late 2018 and the consumption has become especially difficult since early 2019.

A report showed that as of June 2019, the yarn export growth rate was 1.1 percent only. This is because the Chinese market, which consumes 60 percent of Vietnam's total exports, has cut imports.

Not only spinning companies, but garment enterprises, especially small ones, are also facing a decline in the number of orders. The representative of a jeans company said as the number of orders is in sharp decline, the company now focuses on the domestic market.

Truong Van Cam, secretary general of Vitas, confirmed that the lack of orders occurs with many enterprises and some of them have orders just equal to 70 percent of the same period last year.

According to Pham Van Trinh, general director of Phong Phu Textile, in the first six months of the year, the textile and garment industry met many difficulties whi h have continued. Since the production cost in Vietnam is higher than other countries, importers have shifted to place orders with Cambodian, Myanmar and Indonesian producers.

Meanwhile, India, China, Pakistan and Bangladesh have devalued their local currencies to support exports.

According to MOIT, in the last 10 years, Vietnam's textile and garment export turnover reached $27.4 billion.
Linh Ha 

Thirty-eight Vietnam's textile and garment companies recently attended 'Global Sources Fashion and Global Sources Lifestyle', the biggest fashion exhibition in Hong Kong, to seek buyers.

Textile and garment enterprises consume a large amount of chemicals for their production activities.