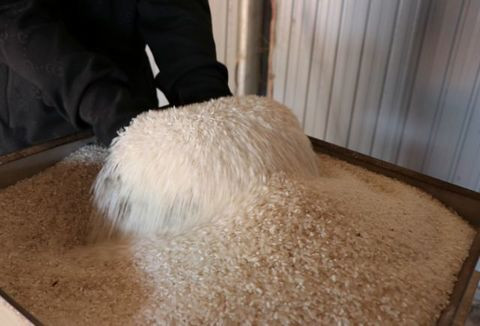 Vietnam is expected to export 6.7 million tonnes of rice worth $3.3 billion in 2022. — VNA/VNS Photo Dinh Lanh
Viet Nam is expected to export between 6.5- 6.7 million tonnes of rice, bringing revenue of US$3.3 billion this year.
Deputy Minister of Agriculture and Rural Development Phung Duc Tien made the forecast at a regular meeting early this week.
According to a report from the Ministry of Agriculture and Rural Development (MARD), in mid-August, Viet Nam cultivated 6.7 million hectares of paddy, down 0.7 per cent compared to the same period last year, while harvesting 4.4 million ha, up 2.1 per cent over the same period last year.
The report said exports of farm, forestry and fishery products in August alone are estimated to reach $1.8 billion. In the first eight months of 2022, farm, forestry and fishery exports reached $36.3 billion or rose 13.1 per cent over the same period last year.
Tien said that the export price of Vietnamese rice stood at $479 per tonne or down 8.8 per cent over the same period last year, noting that the EU countries and the US enhanced their imports of Vietnamese rice, and this should help increase Viet Nam's export prices.
Nguyen Nhu Cuong, director of MARD's Crop Production Department, said the MARD still ensured its production plan of 7.24 million hectares of rice to produce over 43 million tonnes of paddy.
Cuong said if there was no unusual weather or disease, the agriculture sector would produce enough rice to ensure its targeted rice exports of between 6.5-6.7 million tonnes this year. However, rice volume and export price would completely rely on foreign importers.
Regarding information that Viet Nam "shakes hands" with Thailand to raise rice prices, Cuong affirmed that when joining the WTO and Free Trade Agreements (FTAs), Viet Nam always complied with international trade regulations and FTAs. In addition, Viet Nam was already committed to following market rules and always showed transparency and responsibility for international food security issues.
Earlier, the Bangkok Post quoted Thai Minister of Agriculture and Cooperatives Chalermchai Sri-on about the issue that Thailand and Viet Nam had reached an accord aimed at raising the price of locally-produced rice in the global market amid soaring costs for farmers.
Concerning the fluctuations in rice price, Cuong affirmed that as Viet Nam is an agricultural country, food security was very important for 100 million Vietnamese people. Therefore, it was essential to ensure a certain plantation area for a long time.
Cuong further said the economic efficiency and profit of rice farmers were not low, however, farmers still experienced tough times in daily life. This was attributed to small and fragmented land being cultivated for rice by farmers.
According to statistics released by the General Statistics Office (GSO) and the Ministry of Natural Resources and Environment, Viet Nam has about 3.9 million hectares of paddy fields. The National Assembly has also outlined a resolution to maintain at least 3.5 million ha of paddy fields until 2030.
Cuong also talked about the one million hectares of high-quality rice fields that needed to get incentives to attract businesses to invest in warehouses, rice processing and logistics services. — VNS