The accident occurred at an aromatics production factory run by Formosa Chemicals & Fibre Corp., a Formosa Plastics Group (FPG) subsidiary, in Taiwan earlier this month, with a large explosion followed by a dense plume of smoke rising into the sky.
No one was harmed in the explosion which was the result of a faulty or damaged pipe supplying liquefied petroleum gas (LPG) to the facility. Up to now, the fire damage has not been released, but the incident has been a wake-up call for the group's facilities across the world.
In Vietnam, Formosa Group operates a $10.4 billion steel complex in the central province of Ha Tinh, while many subsidiaries of the Formosa family are operating in different production fields in Dong Nai, including Formosa Taffeta Dong Nai, Formosa Taffeta Vietnam (textile & dying), and Formosa Gear (mechanical components).
In this April, Vietnam witnessed two factory fires. The first fire broke out at Pan Pacific Logistics JSC in Song Than II Industrial Zone in the southern province of Binh Duong on April 11.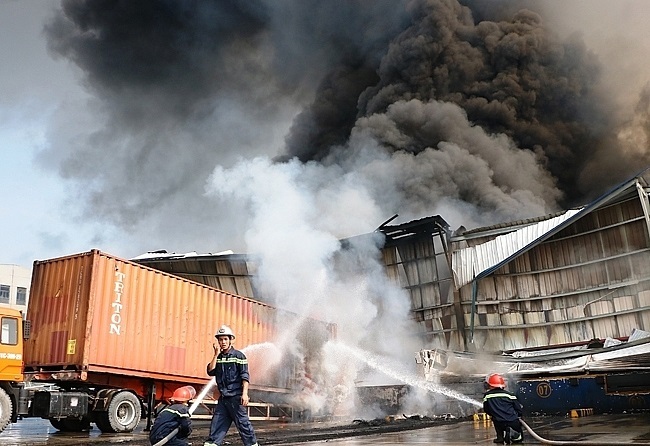 Firefighters tried to bring the fire at Pan Pacific Logistics JSC under control
Another fire on the very next day (April 12) destroyed a 1,000 square metre manufacturing area in Hanoi's Nam Tu Liem district, killing at least eight people.
All four facilities of the manufacturing area were totally destroyed by the fire. The victims were living in a plastic trash bin manufacturing facility at the time of the incident. The rescue team is currently searching for people reported missing, local authorities confirmed to the media.
Fires at manufacturing facilities have increased in both number and severity of damage, reported the Police Department of Fire Prevention, Fighting and Rescue under the Ministry of Public Security (MPS).
Due to the huge stockpiles of flammable materials, goods, machines, and gadgets, industrial zones are always under threat of fire.
Data collected by the Department for Economic Zones Management under the Ministry of Investment and Planning indicates that Vietnam has had more than 300 industrial zones in operation or under construction, spanning a total area of 96,300ha.
The main hosts of those mega manufacturing facilities are the provinces of Bac Ninh, Vinh Phuc, Binh Duong, and Dong Nai. According to the MPS, in 2017 alone industrial zones accounted for 43 per cent of fire-related accidents in the country.
The Asia-Pacific region has been hit by several chemical plant explosions and fires this year. Below is a summary of the main plant accidents in the region since January 2019.
April 12, Malaysia: A fire and explosion occurred at Petronas's Pengerang Integrated Complex. The site houses a 300,000-barrels-per-day refinery and a 1.2 million tonnes per year cracker which feeds multiple petrochemical units.
April 7, Taiwan: An explosion occurred at Formosa Chemicals & Fibre Corporation's (FCFC) aromatics production facility in Mailiao, Taiwan due to a leak at a damaged pipe supplying liquefied petroleum gas (LPG) to the facility.
March 21, China: A series of fatal explosions occurred at Tianjiayi Chemical's production site at Yancheng in east China's Jiangsu province, setting the factory on fire and leaving 78 people dead and over 500 injured.
March 16, India: A fire broke out at a complex owned by Indian Oil Corp. (IOC) due to a naphtha leak at 150,000-barrel-per-day crude distillation unit began start-up operations post maintenance.
February 28, Taiwan: Tasco Chemical Corp.'s 250,000 tonnes per year methyl tertiary butyl ether (MTBE) unit in Linyuan, Taiwan caught fire and exploded.
February 12, South Korea: A fire broke out at Hanwha Total Petrochemical's Daesan-based 280,000-tonnes-per-year ethylene vinyl acetate plant/low-density polyethylene swing plant.
January 4, China: A fire broke out at the solvent de-bitumen unit of Fujian Refining & Petrochemical (FREP) during maintenance, injuring 10 people. FREP runs a 280,000-barrel-per-day refinery, a 1.1-million-tonnes-per-year cracker, and various derivative plants at Quanzhou in Fujian province. VIR