VN's pharmaceutical import turnover may reach $3 billion by end of year

With the average pharmaceutical import turnover of $245 million per month, the figure of the whole year of 2019 may reach $3 billion, equaling 50 per cent of the whole scale of the market.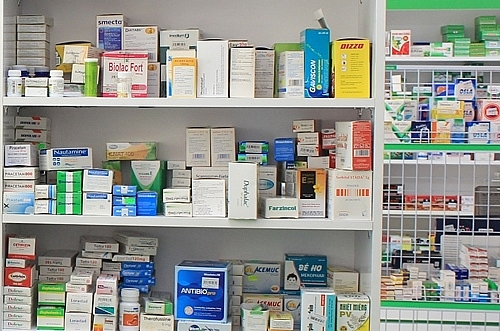 Vietnam's pharmaceutical import turnover is forecast to reach 50 per cent of the entire market
According to statistics published by the General Department of Vietnam Customs, in the first 10 months of this year, the pharmaceutical import turnover was $2.54 billion, up 11 per cent on-year. The main import markets of Vietnam are countries in Asia, America, and Europe.
In 2018, Vietnam spent $2.79 billion to import pharmaceuticals, a slight decrease against the $2.82 billion in 2017.
As of the end of September, France became the country having the largest import turnover with $298 million, up 28.7 per cent on-year, followed by Germany with $241.5 million, up 6.84 per cent on-year.
Especially, within three quarters, although the import turnover from Argentina was $11.01 million, but it saw an increase of 2.5 times or 149 per cent on-year.
Besides, Bangladesh joined the list of import markets with the turnover of $15.64 million.
According to a report published by Business Monitor International (BMI), the Vietnamese pharmaceutical market is estimated at $6.5 billion in this year, the figure is expected to increase by $16.1 billion by 2026 and the average increase in 2019-2022 will be 10.6 per cent.
Vietnam currently has 180 pharmaceutical manufacturers, including foreign-invested and local companies with 194 factories.
They need an average of 60,000 tonnes of materials for manufacturing, 80-90 per cent of which are imported from China and India.
M&A deals in the pharmaceutical sector are likely to increase as both foreign and domestic firms want a bigger slice of the cake.
Analysts at KPMG Vietnam forecast that healthcare spending is estimated to pick up from $16.1 billion in 2017 to $17.2 billion in 2018, and reach close to $20 billion in 2020.
This accounts for 7.5 per cent of Vietnam's GDP and is likely to grow as more middle-class citizens can afford private healthcare and the Vietnamese population becomes older. VIR
Kim Oanh

JW Pharmaceutical Corporation acquired Euvipharm, becoming the first Korean company to take over a Vietnamese pharmaceutical company and operate it directly.

According to experts, the boost in attractiveness of the Vietnamese market comes at a time when the business environment for drugmakers in neighboring countries has not been favorable.