Wellknown writer's new children's book features dreams of boy with disabilities

Veteran writer Nguyen Nhat Anh's latest book for children has been released and is now available at bookshops.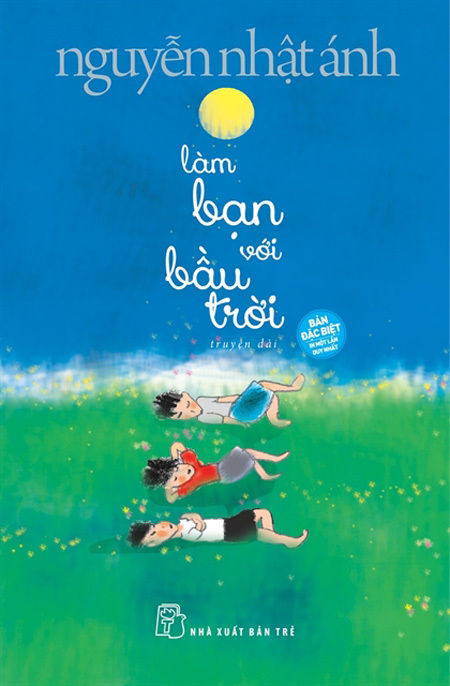 Veteran author Nguyen Nhat Anh's Làm Bạn Với Bầu Trời (Being Friends with the Sky) features the boy Teo and his dreams and hopes. — Photo courtesy of publishing house
The 220-page book, Làm Bạn Với Bầu Trời (Being Friends with the Sky), features Teo, a boy with physical disabilities, as he discovers the world through his imagination.
Teo imagines life and people through the blue sky that he sees from his bed. His love, dreams, hopes are also featured.
The official book-signing in HCM City on Wednesday attracted several hundred young readers who shared their love for reading with the writer.
Ánh spent eight months writing Làm Bạn Với Bầu Trời. "Tèo's soul is beautiful. He helps me believe in life and people."
"I hope my book will send useful messages to young readers. I believe Tèo will encourage children and teenagers to enjoy life and live better," said Anh.
Anh began writing in 1984 and is known for his simple style and accurate depiction of children's minds.
Two of his best-selling works, Kính Vạn Hoa (Kaleidoscope) and Thằng Quỷ Nhỏ (The Mischievous Boy), were a hit in the market in the 1990s. These books are still popular today.
In 2007, Anh's Cho Xin Một Vé Đi Về Tuổi Thơ (Give Me a Ticket Back to Childhood) sold more than 20,000 copies in the first weeks of its release.
In 2010, his book, Cho Xin Một Vé Đi Về Tuổi Thơ, a story on an urban boy named Mui, won the Southeast Asian Writers Award presented by the Thai royal family.
The work has since been translated into Thai and published by Thailand-based publisher Nanmee Books.
One of his highlighted novels, Cô Gái Đến Từ Hôm Qua (The Girl Comes from Yesterday), released by Trẻ Publishing House in 1995, remains one of the country's best-selling kids' books and Moscow University included it in the curriculum for Vietnamese-language students in 2014.
Cho Tôi Xin Một Vé Đi Tuổi Thơ and Cô Gái Đến Từ Hôm Qua were adapted into films by talented directors.
In 2015, Tôi Thấy Hoa Vàng Trên Cỏ Xanh (Yellow Flowers on Green Grass), one of Anh's popular books, was also adapted into a film by Vietnamese-American director Victor Vu.
The film won the Golden Lotus Award for best feature film and best director at the biennial 19th Viet Nam Film Festival in 2015 presented by the Viet Nam Department of Cinematography.
It also won the best film award at 2015 Silk Road International Film Festival in Fujian Province, China. It was distributed abroad by Fortissimo Films Hong Kong.
Director Vu is working on a film based on Anh's novel, Mắt Biếc (Blue Eyes), a production about the love story of a rural boy and his childhood friend during schooltime.
Mắt Biếc is expected to be in cinemas in Christmas.

More than 150,000 copies of Làm Bạn Với Bầu Trời are available from Trẻ Publishing House, which has released 45 books by Anh.

VNS