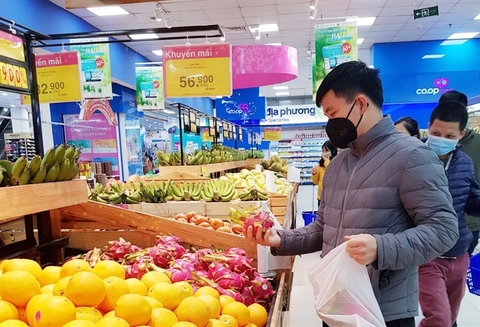 Consumption of healthy foods like fruits and fruit juices that help increase immunity is expected to rise as consumer health consciousness has increased amid the COVID-19 epidemic.
 The COVID-19 epidemic is having an impact on Vietnamese consumer behaviour in the first quarter and will possibly continue in the second quarter, according to global data and consulting company Kantar Worldpanel.
The spread of the deadly virus, which has become a global health emergency, has led to increased health consciousness among Vietnamese consumers. To protect themselves, many people avoid crowds in their daily activities.
Shopping has been affected, with people tending to shop fewer times but with a bigger basket size per trip, which could affect retail sales and fast-moving consumer goods (FMCG) sales in the short term, the company said.
Spending on eating and drinking out and other activities outside the home have been cut, but FMCG for in-home consumption is expected to sustain growth.
Consumption is higher for household cleaning and personal hygiene products as well as healthy foods like fruits and fruits juices that increase immunity.
In terms of retail, smaller, clean and nearby shopping places like street shops, minimarkets and convenience stores are being temporarily favoured against wet markets or larger super- or hypermarkets. In addition, the number of transactions for online shopping and home delivery has significantly increased.
On the other hand, due to delays in shipment of import and export activities caused by the COVID-19 outbreak, there are challenges for suppliers and traders to produce, distribute and stock goods. This will likely result in an uplift in price, which might demotivate consumer spending during the fight against the COVID-19, the company said.
Regarding the impact of the outbreak in the mid to long term, the company said it could raise the health and hygiene consciousness of Vietnamese consumers, which would drive further development of hygiene products for personal care and home care, including bar soap, handwash, hand sanitizer, household cleaning products, tissues, and others.
These products are currently low in terms of both consumer base and consumption, but are expected to become more popular as more consumers get used to buying these items at a higher level of consumption.
In addition, the share of e-commerce is expected to increase thanks to its convenience and advantage of "less physical contact". The ecommerce delivery model fits well with consumers' needs during this time.
The online shopping platforms and delivery services are predicted to witness a growth acceleration in both shopper base and incremental spending by attracting new shoppers who have never shopped online, and by increased or upgraded spending from existing online shoppers.
With emerging channels growing in popularity, including minimarkets, convenience stores and ecommerce, there will be a continuing shift from traditional shopping behaviors to omni-channel and multi-channel shopping, reinforcing the rising omnichannel trend in the retail and FMCG market in the coming time. — VNS

Emerging channels contribute two thirds of total incremental spending come from these channels.

The boom in digital technologies in recent years has sped up the evolution of retail and changed buying habits – providing a new driver of growth for fast-moving consumer goods (FMCG).