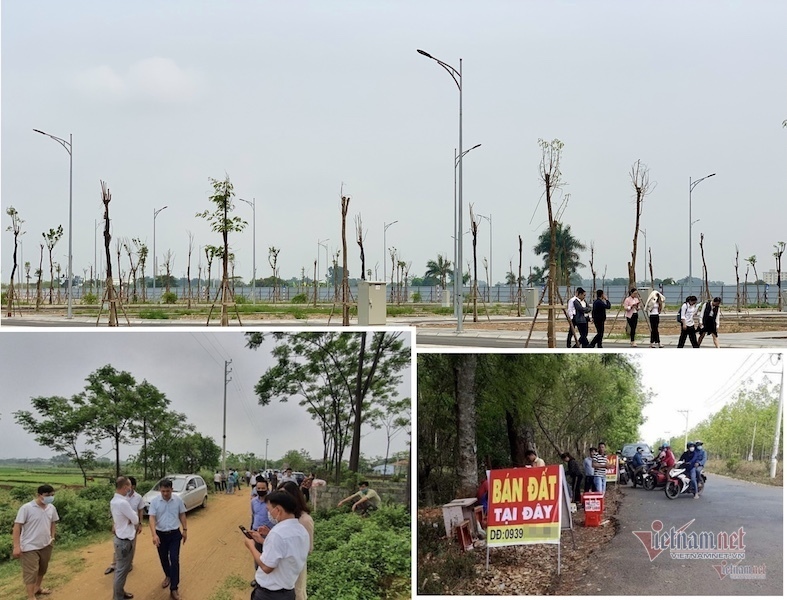 Le Van Binh from the General Department of Land Administration under the Ministry of Natural Resources and the Environment (MONRE) said that land prices escalate periodically, once every 10 years. After every feverish period, land prices surge to higher levels, causing difficulties for investors who want to access land.
Binh said there are many reasons behind the ongoing fever. The main one is information about urban planning.
Previously, industry and locality planning for different periods were released by appropriate agencies and local authorities. But since the Planning Law took effect, local and central authorities all draw up scenarios for the future at the same time.
When the information about the tentative development of new construction works or land areas is released, people rush to buy land in those areas as they hope land prices will surge thanks to the development.
The second reason, according to Binh, is Covid-19. The pandemic has caused bank deposit interest rates to fall, so people, instead of depositing their idle money at banks, seek more profitable investment channels. Real estate and securities are the best choices.
Tran Ngoc Minh from the Hanoi Construction Department also named three factors that lead to land fever – fever cycle, cash flow trends and planning.
2021 is the first year of implementing Hanoi's 17th Party Congress and the 13th National Party Congress which shows targets for housing development.
The city has announced a series of development plans for 2021-2025. The information has prompted people to inject money into areas projected for urban development.
When people heard that Dong Anh, Gia Lam and Hoai Duc suburban dis
tricts would become inner city districts, they rushed to buy land there, pushing the prices up. The sharpest price increases, 100-200 percent, are seen in garden and forestry land in rural areas. Soon after information about urban development was released, the prices immediately soared.
Pham Thanh Tung, chief secretariat of the Vietnam Architect Association, noted that the market becomes chaotic because of the lack of public opinion guidelines.
Land prices begin increasing even when urban development plans are still on paper and not approved yet.
Hanoi authorities are still discussing the Red River subdivision planning and there is still no detailed plan, but people have been rushing to buy and sell land along Red River.
Making price gouging a crime
Binh said every 'fever attack' causes serious consequences to the management of socio-economic development.

Even when the market cools down after the fevers end, new land price levels will be set up, higher than the old prices
Even when the market cools down after the fevers end, new land price levels will be set up, higher than the old prices.
This means that when taking back land for socio-economic development, the state has to spend more money to compensate for site clearance. Investors have to spend more money on their projects because of land price increases," he said.
"This hinders socio-economic development. The land price increases need to be reasonable and in line with socio-economic development," he said.
According to Minh from the Hanoi Construction Department, Hanoi is prioritizing the development of social housing projects. In order to stabilize the market, it is necessary to make information transparent with instructions from local authorities and public opinion guidelines from the press.
Architect Pham Thanh Tung believes that in order to prevent land fever in many localities, it is necessary to publicize planning and organize press conferences to inform people about development plans.
He emphasised the responsibility of local authorities. "Local authorities need to deal with violations immediately when they discover violations, and not allow illegal construction for illegal trading," he said.
Lawyer Tran Thanh Quyet has proposed adding to the Criminal Code the illegal behavior of land price gouging. The provisions on land speculation crimes are no longer suited to cover the real problems that exist, such as the current land fever. 
Thuan Phong

The plan to turn some suburban districts in HCM City into inner districts is only on paper but it has triggered a new land fever in localities.

Real estate speculators have been exploiting urban expansion plans to push up prices beyond the real value, according to the Ministry of Construction (MOC).