Where workers fear New Year holiday
HCM City has over 250,000 workers in the industrial and export-processing zones. Up to 70% of them come from other provinces. Everyone wants the family reunion during the lunar New Year, but many workers "don't dare" to return home...
VietNamNet Bridge - Ho Chi Minh City has more than 250,000 workers in the industrial and export-processing zones (IZs – EPZs.) Up to 70 percent of the workers come from other provinces. Everyone wants the family reunion during the lunar New Year (Tet holiday), but many workers "do not dare" to return home, because of their very low income.
The Trade Unions of IZs and EPZs in HCM City have mobilized various resources to have 6,000 bus tickets for workers this Tet. But so far only 4,200 workers have applied for the free tickets. The rest dare not to receive the tickets because their whole-year savings are not enough to cover the Tet. Workers at dissolved or production-narrowed companies are more afraid of the Tet.
Tet bonus reduced, workers don't dare to go home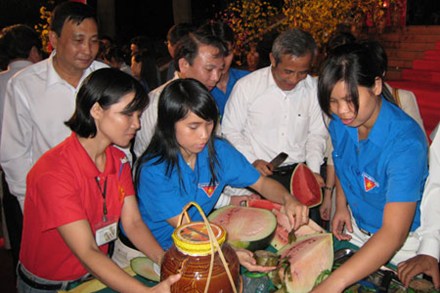 Officials of the Vietnam Labor Confederation welcome the New Year with the workers who cannot afford to go home.
The Nissey Vietnam Co. Ltd in Tan Thuan EPZ, HCM City, used around 2,600 workers. On January 8, workers heard from the HR Department that the company was just fined VND20 billion ($1 million) for the use of pirated Microsoft software, so workers had to share the burden with the company.
For that reason, this Tet festival the bonus would be reduced by a half compared to last year (VND2-2.5 million or $100-120). The workers did not accept the above explanation, saying that if their Tet bonus is reduced due to economic difficulties by the consequences of the recession, they are willing to share. If the company was fined because of software piracy, the firm could not force their workers to share. This year the Nissey Vietnam did not participate in the program to present free bus tickets for workers.
Thanh, a worker of Nissey Vietnam, said: "We work very hard for the whole year but our savings is only inconsiderable. We just hope to have Tet bonus as last year (VND4-5 million – $200-250) to go home with gifts for our family. This year the Tet bonus is reduced by half. We do not think of going home this Tet."
The Sae Hwa Vina Co., Ltd (wholly owned by Korean), according to the Cu Chi District Labor Federation, owning to loss-making, this firm has announced suspension of operations from September 2012. The company still owes more than VND2.3 billion ($200,000) of the July and August wages. Previously, the company did not pay social insurance, health insurance and unemployment insurance for its workers, totaling VND6.4 billion ($300,000). Facing the fierce reaction by workers, the firm had to pay VND500,000 for each worker and still owes them VND2-2.5 million each.
Chanh, a female worker of Sae Hwa Vina, from Nghe An province, said: "I'm lucky to get a job at a carpark so my income is more stable than my husband. He has to go to construction sites to seek a job, but that job is only for a week or two and he has to look for work elsewhere. Anyhow he is still paid fresh money."
Chanh's husband, named Tien, said: "Fortunately, my wife's work is okay so we can hold on. So, this year my wife and I do not have money to visit home."
In particular, at 12:40 on January 9, at the Theodro Alexander Co. (a wholly American owned firm, specializing in wood processing in Linh Trung II EPZ, Binh Chieu Ward, Thu Duc District, Ho Chi Minh City) fires occurred, burning down 15.000m2 of warehouse with wooden materials, chemicals, finished and semi-finished products; making 3,567 workers to lose their jobs. Although the company promised to pay enough salary and bonus but thousands of workers, especially workers from other provinces would lose their Tet because they do not have job. Many workers lost their assets in the fire.
Many workers fear the Tet holiday!
The Minh Viet Long Co. Ltd (No. 168/9 Le Dinh Can, Binh Tan District, Ho Chi Minh City) is working moderately. Nearly 700m2 factory fully equipped with machinery have to close. The firm's director said that they did not have money to present Tet bonus to workers. Since production has been ceased, more than 100 workers have to wait for job. At present, the company has only 25 workers.
Mr. Dan, one of the remaining 25 employees, said: "The work here is only in moderation. There was a time that the company pays salary on the day. If this situation goes on, we will have to look for a job elsewhere to make a living."
When being asked: "How about this upcoming Tet?" Dan said: "We cannot earn enough for daily meals. Just thinking of the New Year, I and my wife feel... terrible!"
The Dai Thang Loi Import-Export Company in HCM City owed its workers the wage in November and December 2012, totaling nearly VND100 million ($5,000). The director paid only VND47 million, then ran away.
Visiting the company's workers at their inns in Thoi Tay 2 hamlet, Thoi Tam Thon commune, Hoc Mon district, workers were still resentful. They said nobody paid them the wage for November and 20 days of December 2012 while they had to work very hard to earn some money for the Tet. At present, over 40 workers have lost their jobs and their wages when the Tet is coming.
Similarly, when the director of the Long Dai Phat Company in District 12, HCM City fled, nearly 40 workers also lost their wage and their job. The biggest difficulty for the people whose companies are dissolved, is that they cannot seek a new job near Tet because even the labor-intensive enterprises--such as textile and footwear also do not have demand for labor. Meanwhile most of the construction works are at a standstill.
Ms. Mai, from Nghe An province, whose has lost job, said: "Although we are very tired, but we have to try to do extra work to earn some more money to go home at Tet. Yet we have been pushed into this situation. Tet is our nightmare now!"
The Chair of the Trade Union of HCM City IPs and EPZs (HEPZA) - Vuong Phuoc Thien - said: "Together with the HEPZA Trade Union's provision of 6,000 free bus tickets to the workers, this year HEPZA will continue the program to visit and present gifts for 1,500 workers who cannot go home for the Tet because their companies are dissolved or their bosses run away or themselves or their spouses themselves are sick."
Lao Dong