Over the past 14 years, thanks to synchronous implementation of many solutions, Vietnam has controlled the population growth rate and reached a replacement birth rate of 2.1 children per woman of reproductive age. By April 2019, Vietnam had maintained the replacement birth rate of 2.09, but there was a huge disparity in birth rates among regions and localities. 
The Central Highlands, the northern midlands and northern mountainous region have the highest birth rate in the country with 2.43 children, followed by the Red River Delta with 2.35 children, and the northern part of the central region and the central coastal region with 2.32 children. Meanwhile, the rate is only 1.56 children for the eastern part of the southern region and 1.8 for the Mekong Delta.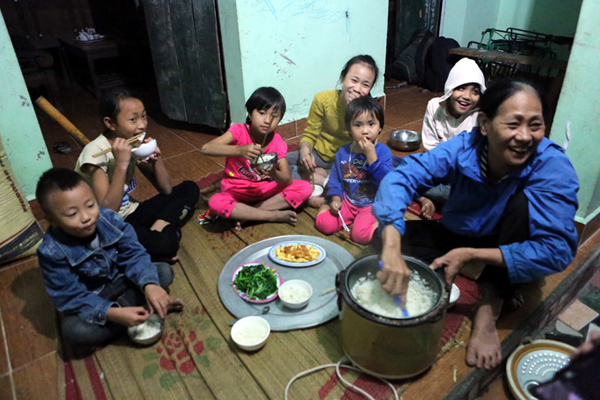 Ms. Nguyen Thi Hong from Quoc Oai district, Hanoi, had eight children at the age of 29. Photo: Tran Thuong
There are 33 provinces and cities (accounting for 42% of the country's population) with high birth rates. Ten years ago, this number was just over 20 provinces.
Ha Tinh has the highest birth rate with 2.83 children, followed by Nghe An 2.75, Yen Bai, Nam Dinh and Kon Tum with 2.74, Dien Bien 2.72, Dak Nong 2.68, Phu Tho. 2.57, and Thanh Hoa 2.54.
The Hoa ethnic group has the lowest birth rate (1.53 children/woman), while the three ethnic groups including Xo Dang, Van Kieu and Mong have a birth rate of 3.57, 3.64 and 3.68, respectively.
Women with tertiary education have the lowest birth rate with 1.85 children/woman and those with a college degree - 1.91. Women who have never attended school have 2.59 children/woman and women with elementary education 3.71 children/woman.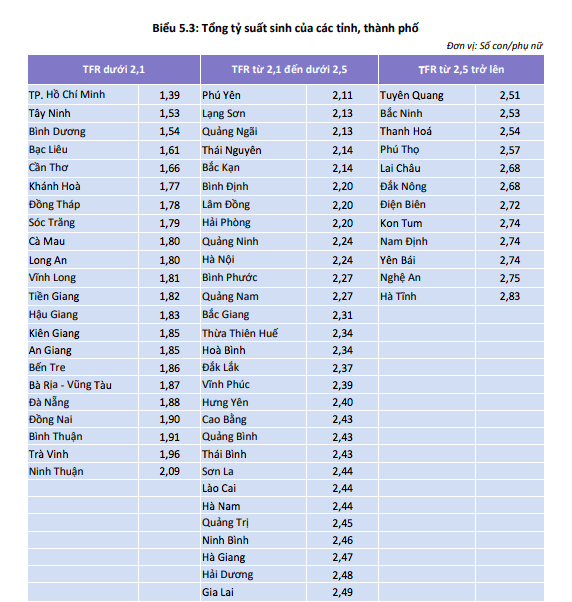 The birth rates of 63 provinces and cities in Vietnam (Source: April 2019 Population and Housing Census)
Mai Trung Son, Deputy Director of the Department of Population Size, General Department of Population and Family Planning, said that Ha Tinh and Nghe An have had very high birth rates for many years. Some provinces in the Red River Delta such as Nam Dinh, Bac Ninh, Hung Yen, Hai Duong and Ha Nam have had high birth rates since 2014.
According to Son, the birth rate has increased in some provinces due to the influence of culture, customs and gender inequality. Many still think that many children will be a workforce and parents will be taken care by their children when they get old. Some wealthy families have many children but this group accounts for a very small proportion. Most of the families with large numbers of children have difficult circumstances.
Another reason, Son explained, is that since 2011, Vietnam has not received free contraception devices from foreign donors. Currently the state only supports contraceptive tools to poor and near-poor households.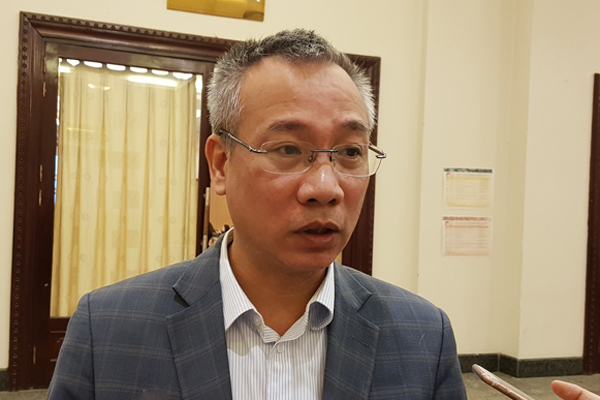 Mr. Mai Trung Son, Deputy Director of the Population Size Department. Photo: T.Hanh
The Ministry of Health is finalizing the Population Law, which revises content and strategies on population in the new period, which is expected to be submitted to the National Assembly by the end of 2022. 
Thuy Hanh

Although Vietnam has obtained some achievements in improving the quality of its population, there is still room for improvement, said Do Xuan Tuyen, deputy minister of health.