VietNamNet Bridge - Russian cars have many loyal fans in Vietnam, but many complain that the cars are unaffordable.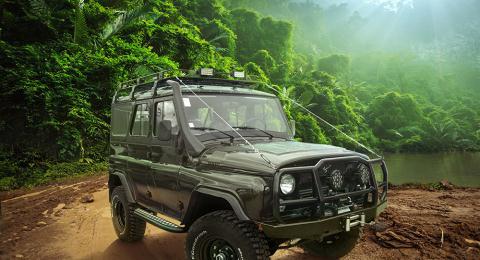 Auto K, the official distributor of UAZ vehicles in Vietnam, on March 13 announced the official selling prices of three UAZ models: VND460 million for UAZ Hunter, VND566 million for UAZ Pickup and VND686 million for UAZ Patriot.
As predicted, the retail prices are described as 'relatively high'. In fact, buyers were warned that they should not expect low prices for UAZ models in the immediate time, because the first batches of products imported to Vietnam won't have preferential tariffs from the Vietnam-EAEU Free Trade Agreement.
Russian cars have many loyal fans in Vietnam, but many complain that the cars are unaffordable.
Nguyen Son, 34, in Hanoi, said with the selling prices, Russian cars would not find many buyers, because there were too many choices for customers now.

"We like 4X4 vehicles. However, with the amount of money, we have many other choices rather than a UAZ with very poor interior equipment," he said.

Duc Minh from Hai Phong City, said he was fond of off-road vehicles, admitting that he would give up the dream of owning an UAZ because of the high price, though he loves Russian cars.

"It is undeniable that Russian cars are very good and durable. Poor interior equipment won't be a problem for me, because I don't intend to buy a car to roll on flat streets, but for off-road trips," he said.

However, he said that he wouldn't dare spend VND1 billion in total, including tax and registration fee, to buy the car.

L.C Ngoc from Hanoi said he would buy a UAZ Patriot if the selling price is VND100 million lower.

"UAZ Patriot is better than the other two models. However, with the selling price of VND700 million, you would have to pay VND900 million in total," he said.

Ngoc went on to say that if Russian cars cannot enjoy preferential tariffs, they will be unable to sell in the market, though many people love Russian cars.

T.V. Duc, the owner of a auto salon in HCMC, said that UAZ products bear
high import tariffs like other products from Europe (50-55 percent).

Besides, the models with cylinder capacity of 2.7L like the three new UAZ models also have to bear high luxury tax. Therefore, Russian cars cannot compete with products from South Korea, Thailand and Indonesia.

Duc once intended to have a sales agent for Russian cars in the south, but he still has not made a decision because of the high prices.
RELATED NEWS
Russian cars subject to 0% tax
Vietnam and Belarus to set up car manufacturing joint ventures
Mai Chi