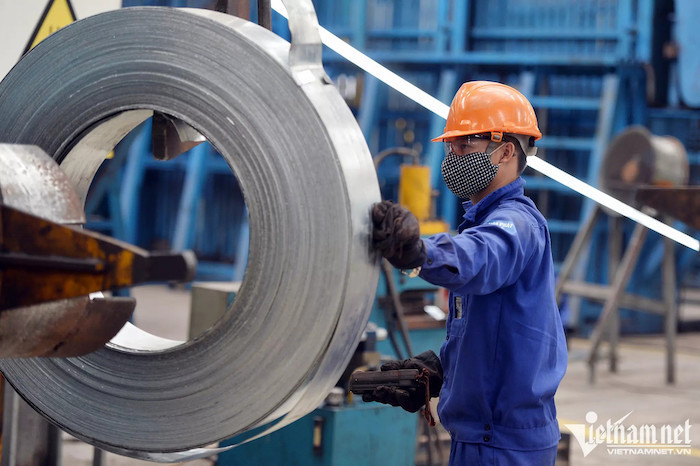 Vietnam has set the goal of average income per capita of $7,500 by 2030 and $27,000-32,000 by 2050, when it would be considered a high-income country.
These are legitimate aspirations to narrow the development gap between Vietnam and other countries, after the industrialization and modernization strategy to 2020 failed.
These targets have been set amid the fact that only 18 countries have succeeded in developing from middle-income to high-income, while many others have been stuck in the middle-income trap.
One of the main reasons for getting stuck in the middle-income trap is a productivity growth slowdown and the inability to settle problems in economic structure.
A country can face difficulties when industrializing and trying to improve competitiveness in the global market.
Vietnam has been in the lower middle income countries' segment since 2008. However, problems have become clearly visible with economic growth slowing down in recent years.
Economists have pointed out that Vietnam's economy has experienced three crises over the last 30 years.
The latest crisis, with a sharp decline in 2020-2021, broke out because of the difficulties faced when dealing with the Omicron Covid variant, which led to a high number of cases and lockdowns, and for other reasons as well.
The sharpest growth decline in the second crisis (2008-2011) was 5.4 percent. It was attributed to the global financial crisis, plus internal structural problems.
While demand from the outside declined, domestic demand did not decrease as seriously as seen during the Covid-19 pandemic. Moreover, despite international demand, import-export growth rates were still in two digits in those years.
In the first crisis (1997-1999), the sharpest decline was 4.47 percent.
In 2011-2020, the average growth rate was 6 percent. In 2000-2010, the figure was 6.6 percent, and in 1991-2000, it was 7.6 percent.
As such, after every crisis in the last three decades, the downward trend in economic growth was very clear. Every 10 years, the annual average growth rate decreased by 0.5-1 percentage point.
From 2004 to now, Vietnam has never obtained a high growth rate of 7.5 percent.
Economists note that the slow-growth model which lasted many years has caused Vietnam to fall into the middle-income trap.
The goal of becoming a high-income country by 2045 will only become feasible if Vietnam is determined to switch to a new growth model to obtain high growth rates.
Vietnam's choices
Former Director of the Institute of Policy and Strategy for Agriculture and Rural Development (IPSARD) Dang Kim Son estimated that if Vietnam can grow by 6 percent per annum, it will almost become a higher middle-income country by 2030. The goal might be attained one year later than planned (in the 13th Party Congress). It will also be difficult to reach the goal of becoming a high-income country on schedule, only 6-7 years later.
If Vietnam can grow by 7 percent per annum, it will be able to become a higher middle-income country sooner than 2030, but the goal of becoming a high-income country by 2045 may be reached one or two years later.
A 7 percent growth rate can satisfy both development goals set by the 13th Party Congress.
If Vietnam can grow by 8 percent, it would reach the goal of becoming a higher average income country 3-4 years earlier than planned and become a high-income country 2-3 years earlier.
With these scenarios designed by Son, Vietnam would have to obtain a high growth rate of over 8 percent in many upcoming years in order to become a high- income country.
According to Vietnam Report 2035, to obtain the above growth rates, Vietnam must be a country with developed industry.
To be recognized as an industrialized and modernized economy, one country has to satisfy many requirements: per capita income of at least $18,000; most people live in urban areas (over 50 percent); industries and services make up over 90 percent of GDP, and 70 percent of laborers work in industry and service sectors; the private economic sector accounts at least 80 percent of GDP; and the human development index is over 0.7.
With per capita GDP in 2014 of $5,370, Vietnam must have a growth rate of 6 percent or higher in the next 20 years to be able to reach the $18,000 threshold.
Lan Anh