Wood manufacturers on alert for unpredictable new year prospects
While the United States is nearing a stance on imported wood that will affect Vietnam, domestic producers are being urged to modernise to survive.
The US Department of Commerce will issue its conclusion on an investigation of evasion of trade remedies for plywood using hardwood materials imported from Vietnam on December 1. This marks the fourth time that the department (DOC) has changed the date to announce the conclusion of the investigation, which comes amid the wood industry facing great risks with high raw material prices, especially in the export stage to Vietnam's largest markets.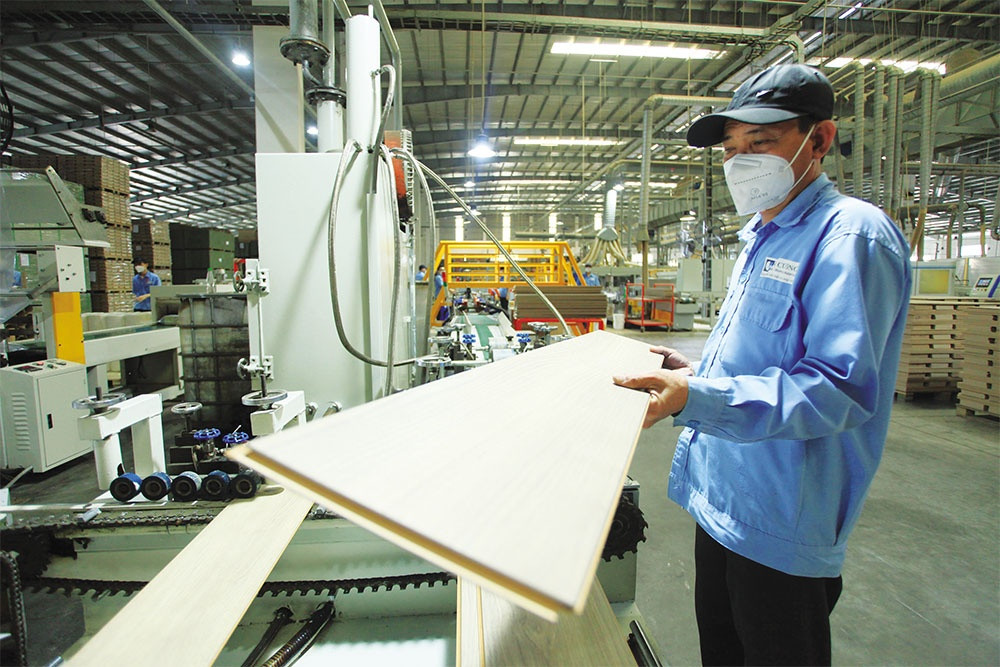 Wood manufacturers on alert for unpredictable new year prospects, photo Le Toan
The Ministry of Industry and Trade (MoIT), in a report released last week, advised businesses to be cautious with their business plan for 2023. The impact of the economic slowdown and high inflation in many major import markets, such as the US, EU, and Japan, has directly impacted Vietnam's production and exports.
Thus, the ministry fears a prolonged decline and strong impact to the whole of 2023, signalling a difficult business year for many manufacturing industries, including wood and wood-based products.
Two weeks ago, a seminar on reducing risks and promoting sustainable development of the domestic wood industry in the southern province of Dong Nai – one of the largest timber processors in Vietnam – was held as successive delegations of the DOC and the European Commission came to Vietnam to review the implementation of commitments on legal timber. Using plantation timber materials to replace raw materials from natural forests has thus become a top priority for many stakeholders.
The domestic market, an integral component of the timber industry, is directly affecting the export component. In the first 10 months of 2022, wooden furniture exports to the US reached $6.5 billion, accounting for almost 88 per cent of the total export value of wood and wood products, down 3.1 per cent over the same period last year. The export value of wooden furniture to the EU in the first 10 months of 2022 also reached only $784 million, down 2 per cent over the same period last year, according to the MoIT.
Meanwhile, in the domestic market, production and business activities remain unstable, putting pressure on the output of craft villages. Le Phi Chien, a representative of Lien Ha craft village in Hanoi, said that the land has become much more expensive as the factory investment rate increased. "Meanwhile, loan interest rates are increasing, all to the worry of many households. Previously, we only had wholesale, but now we have to go via retail to maintain operations," Chien said.
In response, wood enterprises led by Tavico JSC connected with some northern wood craft villages with the goal of converting input materials and changing habits to use natural wood, especially precious woods.
Modern and traditional are the two trends dividing wood craft villages. Dang Thi En, a representative of Van Diem woodworking village in Hanoi, assessed, "This split could render any attempt of linking up with each other void. The most developed households in the craft village are those who are not interested in association. They want to keep a stable mentality and preserve their assets," said En.
In the past, when En developed her business by connecting with architects and interior design units, she was repeatedly dissuaded by her family, who thought it was unnecessary. "Van Diem woodworking village is almost unchanged, still using designs maintained many years ago," En lamented.
Vo Quang Ha, general director of Tavico, offered suggestions after a workshop in early November which displayed craft village products at the Tay wood wholesale market. "The chain of links from raw materials, processing, to product output does not need only a few links, it needs many other links, in finance, technology, and logistics. The most important part is to develop a sustainable wood product supply chain," Ha concluded
Data from the Association of Vietnam Timber and Forest Products (Viforest) showed that export orders of wood enterprises are declining sharply, especially in the US and EU markets. Currently, 80 per cent of businesses report a decrease in revenue compared to 2021. The average order decline in the US, EU, and UK markets is forecast to be over 40 per cent.
Source: VIR