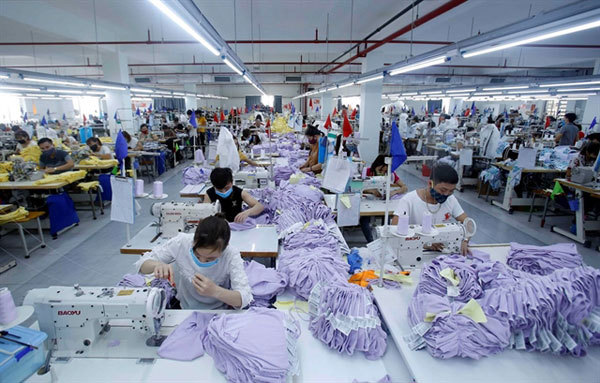 Workers make clothes for export at an apparel company. 
The region-based minimum wage has remained the same since the beginning of last year, but the Vietnam General Confederation of Labour (VGCL) has proposed raising salaries.
In Vietnam, wage adjustments are usually discussed and decided during the second half of a year and would be implemented in the following year.
But due to the COVID-19 pandemic's negative impacts on socio-economic development and business, the Government decided to postpone the wage adjustment discussions in 2020.
Pham Quang Vinh, deputy general director of General Statistic Office (GSO), said that despite positive moves in the labour market in late 2020, enterprises were still facing many difficulties due to COVID-19.
According to the GSO, last year, about 101,700 enterprises across Vietnam halted operations or closed to wait for their dissolution procedures to be completed, marking an increase of 13.9 per cent compared to that of 2019.
Vinh said businesses in Vietnam were still facing many difficulties.
"Positive recovery signals have been seen in the labour market and employment but they could not return to that of the time before the pandemic," he said. "Government's supports to enterprises are still needed."
The adjustment of region-based minimum wage should be put into the context of the whole economy and resource disbursement to strategic priorities which helped ensure the social sustainable development, Vinh said.
The Government identified goals to continue boosting growth after the impressive figures recorded in the fourth quarter of last year. The Government would then consider supporting enterprises and labourers hit hardest by the pandemic.
For example, supports should be offered to enterprises which suffered heavy revenue reduction or those which employ many employees and to workers that saw their incomes reduce sharply, lost jobs or who work in jobs without contracts.
Le Dinh Quang, Deputy Head of Labour Relations Department, the Vietnam General Confederation of Labour, said they only agreed to postpone the wage raise until July 2021, not until the end of the year, citing that despite difficulties, the country's GDP still reported positive growth, exports still made encouraging achievements and the number of new businesses is still quite a lot.
Quang stressed that if the wage was not revised up, the basic demands for livelihoods for workers and their families would not be met.
A raise would certainly drive up costs for businesses but this should serve as a motivation for businesses to enhance their technology and cut down on unnecessary costs to free up funds to give to their employees, Quang argued.
"I think that there is a level that both sides could agree upon. Workers with better income and social protection will be more responsible and attached to their businesses, and how can this not be a positive thing?" Quang said.
According to the union official, the National Wage Council is still deliberating the issue before reporting to the Government.
Currently, the minimum monthly wage for workers in Region I, which covers Hanoi and HCM City's urban areas, is VND4.42 million (US$191.39) a month, for Region II – covering Hanoi and HCM City's rural areas, along with major urban areas like Can Tho, Da Nang and Hai Phong – it is VND3.92 million.
Those in Region III, or provincial cities and the districts of Bac Ninh, Bac Giang and Hai Duong provinces, earn VND3.43 million a month, while Region IV, or the rest of the country, receive VND3.07 million.  VNS

The labour ministry has proposed the Government delay increasing minimum wage next year due to economic hardship caused by the COVID-19 pandemic.