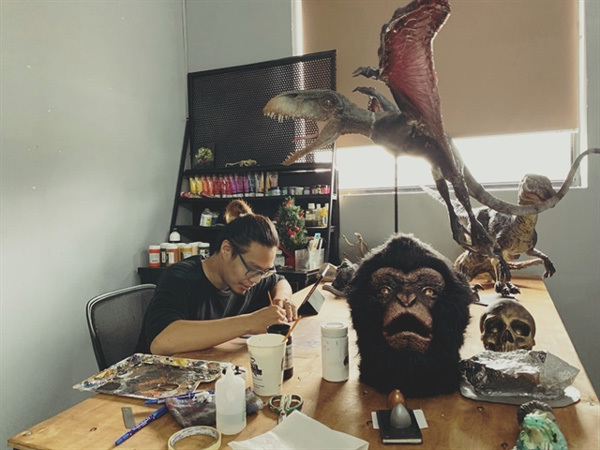 Inspired by their interest in Hollywood science-fiction blokbusters, Phan Nhat Linh and his friend Vi Ngoc Tai established Cinemagic Workshop focusing on creating Hollywood-style models. Photos Cinemagic Workshop's Facebook.
A robotic horned dinosaur, a human-like ape beating its chest and giant worm baring its sharp fangs are just some of the models created by the Cinemagic workshop.
A trip to the workshop is not for the faint-hearted.
The concept came from an interest in Hollywood science-fiction films developed by its founders – Phan Vu Linh and Vi Ngoc Tai.
"The workshop was established in 2016 with three members: me, Tai and his brother. The first workshop was just 40sq.m in the back yard of Tai's house in Dong Nai Province," Linh said.
"At that time, we had no business plan for our products. We just created silicone models similar to those seen in Hollywood blockbusters," he added.
Starting from scratch, Linh and Tai used their own money to invest in the materials and machinery to create the models. Tai even quit his stable job in construction to pursue his passion.
"After succeeding to create several small models, we got a hold of the production process and the right materials. Fortunately we were supported by our first customers, who were involved in event-planning and travelling circuses.
After three years, we moved our business to a 1,200sq.m workshop located in District 9 with over 20 key members of staff, not to mention part-time workers," Linh said.
Recreating science fiction characters is a new field in Vietnam, so Cinemagic has to experiment and draw on experience, and sometimes take risks to find a direction that fits the domestic market.
"The materials are another problem, because most of them need to be imported and are expensive, and it takes time for them to arrive in Vietnam. Contracts are sometimes cancelled because the materials don't arrive on time," he said.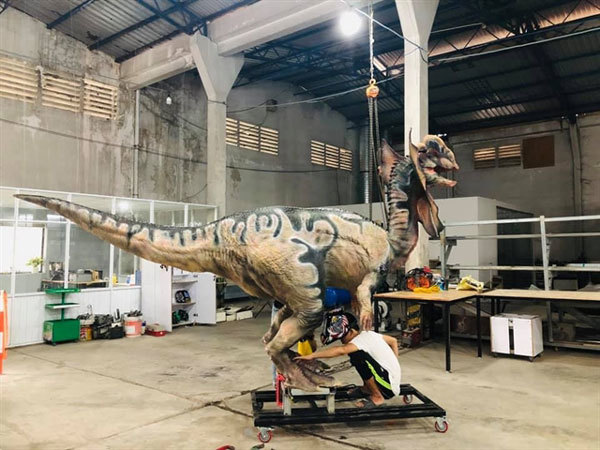 Dinosaurs are the main focus at Cinemagic.
 
To create a custom model, the team must design a concept so that the customers can visualise the shape and colour.
The next steps involving sculpting, moulding, casting and painting. It might sound simple, but it can take up to half a month to complete a model.
One feature of the Cinemagic workshop is the animatronics they use, so besides visualising, teams of mechanics and programmers also work together to assemble all the parts.
"Simply speaking, the design team create the outer skin while the mechanics create the inner structure so the models can move," Linh explained.
Cinemagic's art pieces can be found in five amusement parks across the country, in addition to many models specially ordered for PR events, advertisements and individuals. The team now have 20 moulds they use to create dinosaurs and science-fiction creatures.
"Filmdom is clearly our long-term target, but due to the limited domestic market and strict requirements, we are taking each step carefully to research and complete the models before we conquer the field.
"However, we have done several projects for films to accumulate experience and we would like to work with professional filmmakers as a product provider and co-producer," the 44-year-old artist said.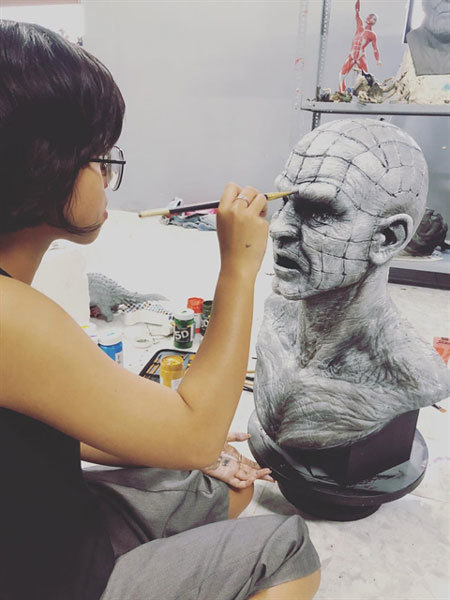 A member of Cinemagic applies makeup to a model.

Scary characters might be the dominant theme among Cinemagic's models, but the workshop also produces models ranging from characters in comics to robots.
Characters from fairy tales, particularly in Vietnam, will also be the focus for Cinemagic in the future to differentiate it from similar workshops abroad, Linh revealed.
"We have already created a model of an ape for a film, and the mechanism is so sophisticated it can mimic the most precise movements of the animal. However, due to time limitations, the project was not a success, but we have learnt valuable lessons from that."
"We're currently working on a similar model, but now we have the time and experience to make its movements as lifelike as possible. We are also putting the final touches on a 6m model of a T-Rex dinosaur with a sophisticated movement mechanism, which we hope will be a turning point in terms of raising the bar," Linh added.
Cinemagic has also been promoting animal protection by creating models like bleeding rhinos and elephants without horns or tusks, and placing them in public places.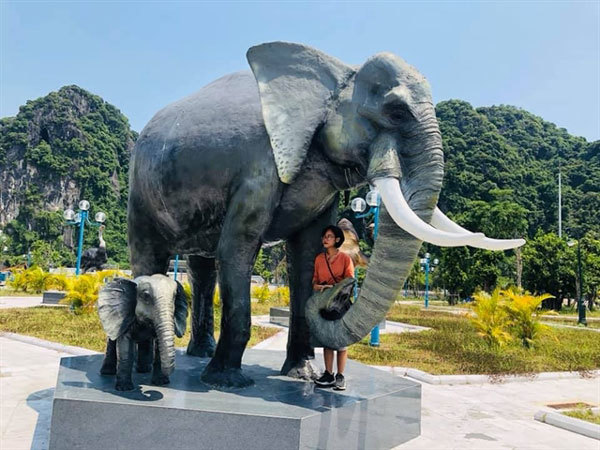 Models of elephants made by Cinemagic on display at an amusement park.

The team also has bigger plans to produce moving artificial hands and legs. In Vietnam, most artificial hands and legs are imported with a general size that may not fit Vietnamese people. If the products are made domestically and to size, it would help to cut the cost of prosthetic limbs for disabled people. VNS
Luong Thu Huong