Young artisan puts trendy twist on Bat Trang ceramics
Vu Nhu Quynh, an artisan in Bat Trang pottery village, is leading the charge in reviving pot making to promote and preserve traditional crafts.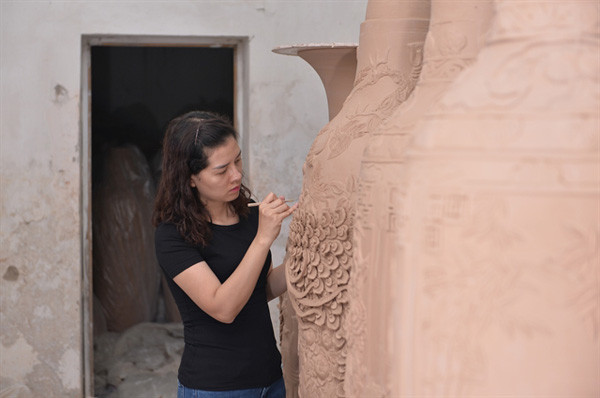 The 36-year-old ceramicist, who hails from a long family of potters, said that she did not realise she had a passion for ceramics until she was an adult.
"After graduating from high school, I decided to pursue fashion design at the University of Industrial Fine Arts instead of staying in the family business," she said.
"I was passionate about fashion at that time. I ran a big clothing store in my hometown and also make a lot of personal fashion designs too."
However, Quynh chose to put down her tailor's scissors so that she could take up her family's profession after an attempt to create her own business was unsuccessful.
"It wasn't until I started making my own ceramic products and inherited the family business that I realised how much I cherished the art of porcelain," she said.
For a long time, her family business was primarily focused on manufacturing items for domestic use like cups and dishes.
But she realised that her family was in a rut, producing household items that were not unique and that many other businesses were also producing.
Meanwhile, most ceramic items used for worship that people prefer are made in other countries, and it is difficult to find those that are infused with Vietnamese culture.
Quynh believed that her family would be able to find success if they made the transition to producing potteries for spiritual purposes while maintaining a high aesthetic standard and retaining Vietnamese traits.
With these concerns, the young artist spent much time studying Vietnamese culture and ceramic techniques.
She started combining classic patterns into contemporary ceramic products. Thus, Quynh could preserve the pattern and uniqueness of Vietnamese ceramics while producing a trendy product to satisfy customers.
"Pots at the royal palace, for example, had peach and peony patterns, which were meant to represent prosperity and power but were painted very plainly. I recognised that if I retained the shape of the antique vase but added an embossed pattern, the result would be far more beautiful, though more expensive," she said.
However, when Quynh shared her idea with her parents, who are accustomed to working traditionally, she did not immediately obtain acceptance.
Her parents believed embossing antique designs was impractical and too challenging to attempt.
But Quynh did not give up. Instead, she spent three years conducting secret research to develop a technology for 3D embossing.
"During those three years, I broke thousands of products," she said.
"The clay I used was enough to pave a floor a few hundred metres wide."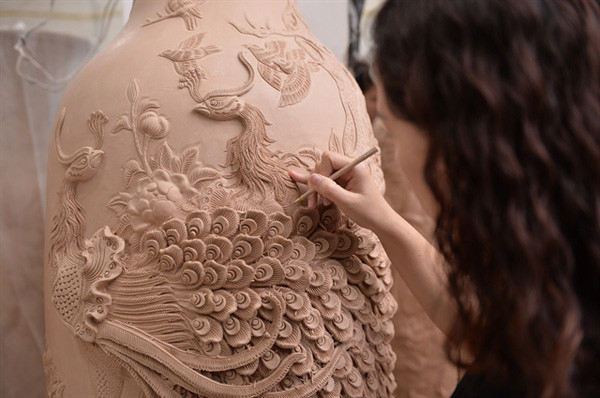 Quynh said that the most challenging part of putting 3D patterns on ceramics was making sure the lines did not break and ensuring they looked soft and real while still being hard and firm.
The young potter gained knowledge and expertise in ceramic production procedures when each product she made broke.
Her hard work and determination ultimately paid off. The unveiling of the first product to feature a 3D embossed design was a resounding success, and customers were effusive in their praise.
In addition, Quynh came up with the idea of gilding the embossed designs, making her products grow in value.
She began to produce in higher quantities, and produce enhanced and diverse designs.
Depending on the sophistication and size of each product, the time it takes to make them is also different.
"Vases of a large size can take up to six months to finish. But in return, the value of the product grows. There are vases in our current product line that range in price from a few hundred million to a billion dong," Quynh said.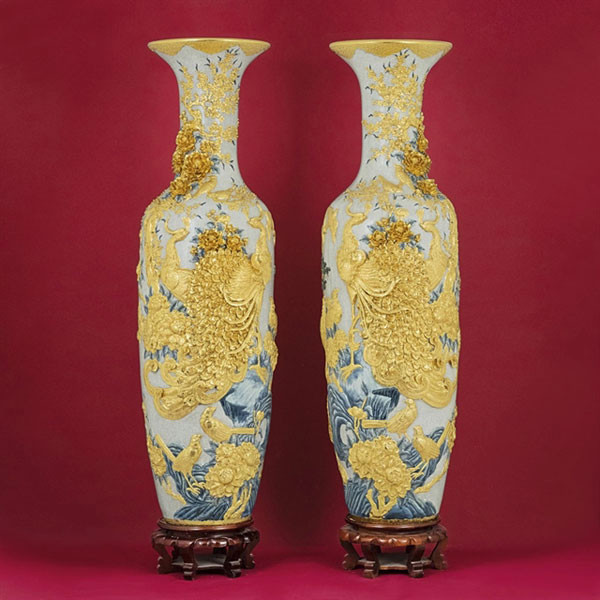 Quynh's ceramic brand Van An Loc is now found all over the country with thousands of one-of-a-kind ceramic products, after starting with a modest store in the pottery village of Bat Trang.
Talking about future goals, Quynh hopes to promote her ceramics to more customers, especially those abroad.
"I'd like to garner more attention with my 3D embossed ceramic products, domestically and abroad. Vietnamese ceramic vases are just as good as those made anywhere else in the world, and I want international friends to experience them for themselves," she said.
Source: Vietnam News